Blue Valet Meet and Greet Lyon
All our car parks have anti-covid measures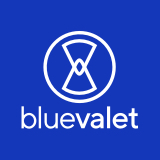 Secure car park, available from 5.00am to 11.00pm with Meet and Greet Service at Lyon Airport included.
How the service works:
On your arrival day: once the booking has been made, your valet will be assigned. The Blue Valet car park will send a SMS containing the number of your valet, to the phone number you have given when making the booking.
Fifteen minutes prior to your arrival at the terminal please call your valet to confirm your arrival. His punctuality is guaranteed even if your arrival time differs.
Your Blue Valet driver will be in a dark blue uniform and will wait for you in front of the departure terminal. He will assist you with your luggage and conduct an inventory of your vehicle. He will drive your car directly to the secure car park.
On your return : The car park requests that you confirm your arrival with a phone call to the valet when you are collecting your luggage.
Blue Valet will be monitoring your flight info so they will already know if you're going to be early or late.
After you have phoned, you may proceed straight to the meeting point where your car will be waiting for you.
Directions
You will receive a booking voucher containing the car park's address and telephone number, along with any relevant instructions and directions, upon confirming your reservation.
To view the location of the car park, please see the map on the website.
Features
Alarm System

CCTV

Insured Car Park

Secure

Vehicle Condition Check

Insured Drivers

Meet and Greet

Anti-Covid Measures
Customer Reviews
xavier
Sunday, March 1, 2020

Parfait. Moins cher qu'en direct grâce à Park via. BLue valet à l'heure malgré le retard de notre avion et très sympathique. Top
Gérard
Sunday, February 16, 2020

dominique
Thursday, January 23, 2020

Conrad
Monday, January 6, 2020

Bonjour, bcp de temps a attendre l'arrivée du voiturier malgré notre téléphone pour la dépose un peu en avance. Au retour, le voiturier a appelé pour savoir si nous étions bien arrivés à 11h45. A 11h55, nous lui confirmons que c'est ok et que nous l'attendrons à l'endroit convenu. A 12h05, nous le rappelons pour savoir où il se trouve et là il nous dit qu'il arrive dans 10mn. A 12h33, toujours rien et je le rappelle, là il me dit qu'îl arrive dans 2mn et c'est finalement à 12h40 que nous avons pu reprendre notre véhicule. Pourquoi ne pas dire à 11h55 ou 12h05 qu'il ne sera pas là. Nous aurions pu attendre au chaud et boire un café et attendre dehors bêtement ! Merci pour votre retour et dans cette attente, je vous souhaite une bonne journée.
Gerard
Friday, January 3, 2020

Le système est parfait , et merci pour la bouteille d'eau à l'arrivée .
Laurent
Sunday, October 27, 2019

Denis
Saturday, October 12, 2019

DUCROCQ
Friday, September 27, 2019

Nicolae
Monday, September 16, 2019

René-Louis
Monday, August 12, 2019

Savre
Sunday, July 21, 2019

Gail
Saturday, May 18, 2019

PASCALE
Thursday, April 11, 2019

claude
Thursday, April 4, 2019

Dominique
Sunday, March 31, 2019

Je regrette que le site internet ne soit pas à la hauteur du service propose : impossible de modifier l'horaire du vol retour en ligne et malgré un mail de demande de modification la réponse apportée me renvoyait sur le site ... qui ne fonctionne pas ! Il y a donc eu cafouillage au retour, c'est bien dommage !
Ossola
Sunday, March 3, 2019

Merci aux deux chauffeurs.
Peter
Sunday, February 3, 2019

Excellent service! I can recommend ParkVia to everyone!
Raymonde
Saturday, February 2, 2019

Nadine
Thursday, January 3, 2019

Carole
Friday, December 21, 2018

Tres bon service, je le recommande