Parking WIZ-PARK KATOWICE
All our car parks have anti-covid measures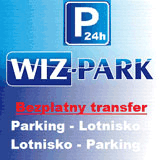 Parking WIZ-PARK Katowice is located close to terminal and provides you with free transfer and child seats. Meet Greet service is also available, as well as refuelling service. Customers can use a waiting room, free toilet, free Wifi and safe deposit. The car park offers designated spaces to disabled customers.
The car park is located just 300m from the terminal (which is 2-3 minutes away by shuttle bus). Parking "WIZ-PARK" is fully secure, has strong concrete fencing, is well lit and has alarm systems operating around the clock. The car park's gate is always kept closed except for access.
The car park provides you with a nice, quiet waiting area with a bench, table and access to a free internet connection, so you can have a meal or a drink before the flight.
Moreover, the car park is insured, patrolled and monitored 24h a day, 7 days a week. It is important to note that the car park is located on private land, which guarantees that your car will be absolutely safe there.
The car park provides free transfers (including your luggage) right to the entrance to the terminal, and on your return from the terminal to the car park. Transfers are organised individually and on demand.
Directions
You will receive a booking voucher containing the car park's address and telephone number, along with any relevant instructions and directions, upon confirming your reservation.
To view the location of the car park, please see the map on the website.
Features
Barrier Entry

Concreted

Disabled Transfer

Free Transfers

Gated Entry

Insured Car Park

Perimeter Fence

Well Lit

Wifi

Transfer Service

CCTV

24 Hour

Shuttle bus

Anti-Covid Measures
Customer Reviews
Beata
Monday, September 21, 2020

Piotr
Sunday, September 6, 2020

Jiří
Saturday, January 11, 2020

Martin
Monday, December 2, 2019

Lubomír
Friday, October 18, 2019

Perfektní služby. Rychlost, ochota, nízká cena.
Adam
Wednesday, October 9, 2019

Katarzyna
Saturday, October 5, 2019

Jestem zadowolona , napewno jeszcze skorzystam.
Roman
Monday, September 30, 2019

Společnost
Friday, September 27, 2019

Perfektní komunikace i služby personálu. Doporučuji!
Dawid
Sunday, September 8, 2019

Nie mam żadnych zastrzeżeń, wszystko przebiegło sprawnie i szybko.
Jana
Tuesday, September 3, 2019

Robert
Friday, August 30, 2019

Hana
Saturday, August 17, 2019

Vše proběhlo bez závad! Budu se těšit zase příště!
Lumír
Tuesday, August 13, 2019

Piotr
Thursday, August 8, 2019

Parking przy wyjeździe był przepełniony i samochody były zaparkowane na alejkach dojazdowych. Tak iż wygodny wyjazd z miejsca parkingowego był możliwy tylko w jednym kierunku a później trzeba było się cofać tyłem między ciasno zaparkowanymi samochodami i pod mocno święcące reflektory. Tylko jedna ścieżka wyjazdowa z miejsca parkingowego. Tylko jedna wąska droga wyjazdowa z parkingu. Już po opuszczeniu parkingu zauważyliśmy drobne wgniecenie przy drzwiach. Oprócz tego obsługa była OK. Myślę, że w przyszłości wybrałbym inny parking.
Witam, dziękujemy za opinię jednak nie do końca się z nią zgadzamy, proszę Pana te samochody o których Pan pisze że były zaparkowane na alejkach dojazdowych oczekiwały na zaparkowanie gdyż nie którzy klienci zostawiają nam samochody żebyśmy to my im zaparkowali samochód stoją na alejce o dokładnej szerokości 6 m samochód ma szerokości około 2m zostaje Panu na wyjazd z miejsca parkingowego prawie 4 m czy to mało? wystarczająco. Należało tylko dobrze manewrować pojazdem lub ewentualnie gdy się tego nie potrafi poprosić obsługę o pomoc w ogóle nie trzeba jechać w drugą stronę i cofać pod świecące lampy. Proszę mi uwierzyć że wszystko ustawiamy tak aby było wystarczająco dużo miejsca. Jeśli chodzi o wgniecenie takie rzeczy zgłasza się na miejscu a nie opisuje nie potwierdzone w internecie, czy zgłaszali Państwo jakiekolwiek zastrzeżenia przy wyjeździe z parkingu? parkują u nas tylko sami kierowcy pod nadzorem obsługi dlatego też jakiekolwiek obicia są prawie na 100% niemożliwe, miejsca parkingowe mają wszystkie 2,50 m szerokości jest to prawidłowa odległość jaka powinna być między samochodami. Jeśli mieli Państwo jakiekolwiek uwagi dotyczące wgniecenia takie rzeczy się zgłasza i wtedy mamy możliwość odniesienia się do tego oraz sprawdzenia monitoringu. Tutaj nie dał nam Pan żadnej szansy tylko od razu wypisuje "NIESPRAWDZONE" rzeczy w internecie ! także na przyszłość proszę się zastanowić co Pan pisze jeśli nie jest to potwierdzone tylko zasugerowane z Pana strony bo nie może Pan napisać że mają Państwo obite drzwi jeśli Pan nie wie na 100% że to wydarzyło się u nas ! Jeśli coś zdarzy się u nas to za to odpowiadamy ale tak jak wspomniałam nie mam żadnego zgłoszenia z Pana strony. P.S dziękujemy że chociaż obsługę ocenił Pan dobrze. Przepraszamy za wszelkie niedogodności jednak mimo wszystko zapraszamy ponownie.
Sabina
Wednesday, August 7, 2019

Wszystko bez zarzutu, przy następnej okazji z pewnością będziemy korzystać z Państwa usług.
Arkadiusz
Sunday, August 4, 2019

Eva
Monday, July 29, 2019

beata
Sunday, July 28, 2019

Ivana
Friday, July 26, 2019

Děkujeme za ochotu ve tři hodiny ráno a i nazpátek proběhlo vše ok.