Rated Excellent
Exeter Airport Parking
All our car parks have anti-covid measures
Number of Car Parks
Best Priced per day
Best Rated Car Park
Closest Car Park

2

Main Yard Meet and Greet

0.11 Km
How to book Exeter airport parking online with us
Looking for hassle-free Exeter airport parking? Let ParkVia help you out! Say goodbye to paying excessive fees or wasting time searching for a parking spot. With ParkVia, you can easily and affordably reserve your parking space in advance.
Our booking process is quick and simple. Just provide us with your desired dates and times, and we'll give you a quote for Exeter airport parking. We offer a range of options to suit your specific requirements, whether you're seeking convenience, proximity, comfort, or affordability.
Securely pay online, and take advantage of our best price guarantee, which offers fantastic savings.
Once you've made your booking, you can relax knowing that you have a guaranteed parking spot for your trip. Simply present your booking reservation upon arrival, and your car will be safe and secure while you embark on your journey.
Flying from a different airport? Consider parking options near Bristol or Southampton airport.
Cheap Exeter airport parking
Looking for parking at Exeter airport? Look no further than our accessible booking options for both short and long-term parking on our website. Take advantage of our best price guarantee to save significant amounts on parking fees.
Using our booking system, you can easily compare the prices and services of parking options available on our website. Prices may vary depending on the distance from the airport terminal, with off-site car parks typically requiring transfers and on-site car parks offering more convenience at a higher cost. If you require disabled parking with direct access to the terminal's check-in area, on-site car parks may be the ideal option for you.
Our best price guarantee ensures that you never pay more than the cost of parking if you booked directly with your chosen car park. By booking in advance, you could save up to 60% off the cost of parking compared to booking on the day of arrival.
Choose our website for easy and affordable Exeter airport parking, and rest assured that you're getting the best possible deal.
What our customers say about parking at Exeter.
Compare Parking at Exeter
View and compare approved car park operators at this location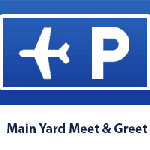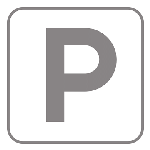 24 Hour

CCTV

Open Air

Tarmaced

Secure

Night Patrol

Barrier Entry
Car park map
Find the most conveniently located Exeter car parks.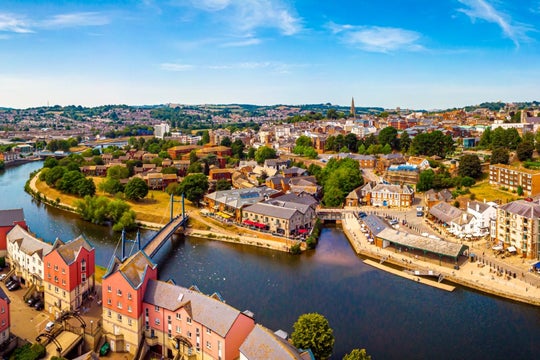 Compare Exeter airport parking
If you're planning to park your car at Exeter airport, you'll be pleased to know that we have two excellent car parks available for booking on our website.
The first option is Flyparks, which has received a rating of 4/5. This car park is conveniently located within walking distance of the terminal, making it a great option for those who want to avoid lengthy transfers. The car park is outdoors, but rest assured that it is secure and monitored by CCTV around the clock. Flyparks is open 24/7, so you can park your car and leave it with complete peace of mind, knowing that it is in good hands.
The second option available is Main Yard Meet and Greet, which has also received a rating of 4/5. This car park is located within walking distance of the terminal and offers outdoor parking. It is also highly secure and offers valet parking, which means that the car park operator will park your car for you and keep it safe until you return. You simply leave your keys with the operator, and your car will be waiting for you when you arrive back at the airport. This is an excellent option for those who value convenience and want to save time when arriving and departing from the airport.
Whether you choose Flyparks or Main Yard Meet and Greet, you can rest assured that your car will be safe and secure while you're away. Both car parks are highly recommended and have received excellent ratings from our customers. So, book your parking spot in advance and enjoy a hassle-free parking experience at Exeter airport.
Quick parking tips before starting your journey
To ensure a stress-free journey to Exeter airport, it's crucial to consider the time it takes to park your car and reach the terminal. Arriving at the airport with ample time before your scheduled departure is highly recommended.
If you plan on using the airport's shuttle service to park your car, arriving at least 3 hours prior to departure is advisable. This will allow you to locate a parking spot, transfer your luggage onto the shuttle bus, and reach the terminal with ease. By giving yourself plenty of time, you can avoid any last-minute rush and make your travel experience much more relaxed.
However, if you prefer valet parking, you can afford to leave a bit later. In this case, leaving at least 2 hours before your flight's departure is recommended. This will give the valet parking staff enough time to park your car safely and transfer your luggage to the terminal. You can then proceed to check in and enjoy some of the airport's amenities before your flight.
By considering these factors, you can make the most of your travel experience and avoid unnecessary stress. Plan and arrive with time to spare so you can enjoy a seamless journey to and from Exeter airport.
About Exeter airport
Exeter Airport is a small international airport located in Devon, UK. It offers flights to various destinations in the UK and Europe, with popular destinations including Paris, Amsterdam, and Dublin. The airport has a range of facilities for travellers, including shops, restaurants, and lounges. It also offers a variety of parking options, including short-term and long-term parking, as well as valet and off-site parking. Exeter Airport strives to provide a comfortable and convenient travel experience for its passengers and is committed to ensuring the safety and security of all travellers.
Stay connected to receive exclusive deals & offers
Something went wrong.
Thank you!