Travelodge Parking Dublin North
All our car parks have anti-covid measures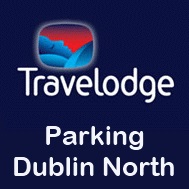 Travelodge Dublin North offer park and ride facilities for users of Dublin Airport. Travelodge is a popular choice. The surface level car park is suitable for wheelchair users.
Travelodge Dublin Airport North offer customers a great park and fly service without having to reserve a room or stay the night before. The car park is surrounded by a large shrubbery embankment and hedging, along with a metal fence at the rear of the hotel. To reserve a parking space, you must book in advance as it is necessary to display the 'booking detail voucher' that you receive in an email after an online booking. It is essential that you print 2 copies of this and display one in your car, as it is one of the measures to combat illegal parking and if it is not displayed your vehicle is liable to be clamped. (The second copy is for the shuttle bus).

For both entry and exit customers will need to call in at reception to confirm arrival and departure times. A bus service to and from Dublin Airport is available for car park customers and guests of the hotel. The Dublin Airport Hopper, which provides the transfer service, is a fast and reliable direct link to and from the Travelodge Dublin Airport North 'Swords' and Dublin Airport with a journey time of 10 minutes! With services every 30 minutes for most of the day from 04:00am to 11:00pm there is no better way to get to and from the Terminal!
Departures from the Travelodge leave at 06 minutes and 36 minutes past the hour, with a break in service at 09:06 and 18:36. The last departure from the Travelodge leaves at 22:36.
Departures from the Airport leave on the hour and the half hour, with a break in service at 09:30 and 19:00. The last bus leaves the airport at 23:00.

Cost per person is €3 each way – Children (under 16) go free. This is payable to the bus driver and is not included in the payment you make for parking. You must show the second printed copy of your email to the bus driver to receive the Travelodge transfer price - otherwise you will be charged €5 per person.

Please note that there are 16 bays in the coach park which are for the use of ALL bus operators; the Dublin Hopper can therefore arrive into ANY bay. The bus will arrive into the airport from approximately 7 minutes before its scheduled departure time and will park in any one available of the 16 bays. Customers therefore need to look out for the bus and at the destinations displayed on buses in order to find the correct shuttle service.
Directions
You will receive a booking voucher containing the car park's address and telephone number, along with any relevant instructions and directions, upon confirming your reservation.
To view the location of the car park, please see the map on the website.
Important
You MUST HAVE ACCESS TO A PRINTER. You are required to print the proof of booking document, which you receive at the time of booking via email, and display it in the front of your car for the period it is parked, otherwise you risk your vehicle being clamped.

You also are required to print the booking voucher and show this to the bus driver, as the transfer charge is at a discounted rate. If you do not present this, you will not be given the discounted rate.
Features
Shuttle bus

Height Restriction

Well Lit

CCTV

Anti-Covid Measures
Customer Reviews
Caitriona
Tuesday, March 24, 2020

Whitby
Thursday, March 19, 2020

I have had to answer two questions which are not applicable so while the car service was good what about this questioner
Collette
Monday, March 2, 2020

Adding in the bus transfer and depending on number of passengers it can actually work out better to use Dublin airport as they provide in their price airport transfers. max of 5 people in the car adds €30 (€3 each way) to the parking costs which is a lot in comparison to other providers and something to be look at in the service provided.
Majid
Tuesday, February 25, 2020

Paul
Sunday, February 16, 2020

Brenda
Tuesday, February 4, 2020

Roman
Friday, January 24, 2020

Fabio
Wednesday, January 15, 2020

VITALIY
Wednesday, January 8, 2020

Dariusz
Wednesday, January 8, 2020

Sandra
Thursday, January 2, 2020

Didier
Friday, December 27, 2019

Sarah
Wednesday, December 25, 2019

Moyra
Thursday, December 19, 2019

Paulo
Saturday, December 14, 2019

Tiffany
Wednesday, December 4, 2019

Terrie
Tuesday, November 19, 2019

The driver on the return journey knew nothing about the discounted rate. He gave it to me in the end but made it out he was doing me a massive favour. I think staff should be better informed.
Hilda
Saturday, November 16, 2019

The shuttle bus did not show up at Dublin airport - either the 5.30 or 6pm bus. I had to get a taxi back to the Travelodge.
Joseph
Saturday, November 9, 2019

Everything was excellent on the way to the airport no problems but on the return we waited for a bus to pick us up to return us to the car park for what seemed like over an hour in the freezing cold that we ended up having to get a taxi to take us to the car and not even on the way over in the taxi did we see a bus on route to the airport so the transfer service was appalling and is not the services advertised
Alicja
Monday, November 4, 2019