Easy Park & Fly Underground Dresden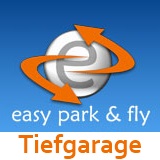 Easy Park & Fly Parkplatz Tiefgarage Dresden offers you safe and secure parking in an underground multi-storey car park. The car park is located close to the A4 (exit 81b Dresden airport). The transfer to Dresden airport is included in the price and takes only 3 minutes. Easy Park & Fly Parkplatz Tiefgarage Dresden is available 24 hours a day, 365 days a year.
How it works:
On the day of your departure please drive directly to the car park and report to reception where a member of staff will be meeting you. Please note that the shuttle bus will be ready to take you to the airport at the time you stated in the booking form. After completing the paperwork, your luggage will be loaded into the shuttle and you will be shown your parking space. Park your car and you will be transferred to your departure terminal in no time.
You and your luggage are insured on all transfer journeys. Whilst you are away, your car is parked securely on the fenced off, enclosed and regularly patrolled compound. Access to the car park is with a member of staff only.
On your return please collect your luggage. Staff will monitor your arrival at Dresden airport and a driver will meet you in the terminal and take you back to the car park.
Directions
You will receive a booking voucher containing the car park's address and telephone number, along with any relevant instructions and directions, upon confirming your reservation.
To view the location of the car park, please see the map on the website.
Important
Please contact the car park if you will arrive later than shown on your booking voucher
Features
Free Transfers

Child Seats

Well Lit

Secure

Individual Transfers

Keep your Car Keys

Toilet

Disabled Transfer

Concreted

Undercover

24 Hour

Shuttle bus
Customer Reviews
Uwe
Monday, October 22, 2018

Gerald
Tuesday, September 11, 2018

Die fehlende Telefonnummer für den Shuttle war suboptimal, die Abholung vom Flughafen 1Shuttle für 12 Fahrgäste war unprofessionell, wir würden hier nicht noch einmal buchen
Jan
Saturday, August 25, 2018

Nechápu, zaplatil jsem předem a po příjezdu na místo tam žádné parkoviště pro veřejnost s personálem nebylo! Ještě, že nekryté parkoviště hned u letiště v Drážďanech je levné a mají místo. Jedná se o podvod nebo jsou údaje neaktuální???
Jan
Monday, January 8, 2018

Christian
Saturday, October 21, 2017

Es war sehr angenehm und ich kann es nur weiterempfehlen.
Uwe
Sunday, September 24, 2017

Volker
Monday, July 24, 2017
Bad Lauchstädt
Hallo sehr zufrieden es hat alles super geklappt
Mike
Saturday, July 22, 2017

Carsten
Monday, February 13, 2017

Jaroslav
Friday, January 20, 2017

Jsem naprosto spokojen s parkováním u letiště v Drážďanech (v podzemí). Při příjezdu byl pracovník za 2 minuty na místě a při příletu letadla zpět do Drážďan už čekal na letišti před terminálem, hned nás odvezl osobním autem na parkoviště. Z parkoviště jsem odjel jako ze salonu. Jsme s manželkou naprosto spokojeni a vřele doporučujeme.
Michaela
Monday, January 2, 2017

Michal
Wednesday, December 7, 2016

Neoznačené parkoviště, neochota personálu!!!!!!!!!!!!!!!!!!
Vielen Dank für Ihre Einschätzung, leider können wir diese nicht verstehen bzw. nachvollziehen. Bitte übersenden Sie uns diese in englisch! Vielen Dank!
Jiri
Tuesday, August 23, 2016

Parking is not marked. To call on the phone was big problem. In the time indicated on the voucher never came to trasfer to the airport, 25 minutes delayed. After arrival we also had a problem with the transfer, delayed 20 minutes. We had to call again. No apology. Never more.
Andrzej
Thursday, June 23, 2016

wszystko na czas dziękuję
Miroslaw
Monday, February 15, 2016

Witam Tak jestem zadowolony za miłą obsługę polece innym. Pozdrawiam.
Agata
Thursday, May 7, 2015

Korzystałam z parkingu 2 raz i znowu byłam bardzo zadowolona. Pełen profesjonalizm.
Krzysztof
Monday, May 12, 2014

Bardzo Dobra obsługa i rzetelna firma
Agata
Wednesday, May 7, 2014

Edwin
Saturday, October 12, 2013

Alles bestens gelaufen - sehr gerne wieder!!