Parking Larga Estancia P2 AENA Bilbao Airport
Due to the global pandemic (COVID-19), we are receiving an extremely high amount of contacts from customers. Please bear with us.
If you would like to manage your booking please click here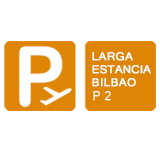 The P2 long stay car park at Bilbao Airport is the best option for leaving your car while you enjoy a holiday or a long journey, at a competitive price. Located at the departures level, it connects to the terminal by a covered walkway. It is 5 minutes away on foot.
This is the official car park at Bilbao Airport official car park, which guarantees you the best service at the most competitive price. The car park is conveniently located a few meters from the terminal, just five minutes away. It has covered parking spaces with management and security personnel present.
If you are looking for proximity to the terminal, comfort, and safety for your car, we have the solution. Reserve your car park space for official Bilbao airport parking with us and save time on your arrival at the terminal.
IMPORTANT:
Please, wait in front of the barrier until the Automatic Number Plate Recognition recognises your vehicle and a ticket will be issued automatically.
YOU MUST NOT PRESS THE BUTTON. If you press the button, the ATM will charge you the normal price and not the reservation price.
On your return, you need to go to the ATMs to make the payment. If you have any problems, please use the Customer Service integrated in the ATMs
Directions
You will receive a booking voucher containing the car park's address and telephone number, along with any relevant instructions and directions, upon confirming your reservation.
To view the location of the car park, please see the map on the website.
Features
Luggage Minding

Tarmaced

Secure

Insured Car Park

Undercover

24 Hour
Customer Reviews
JESUS
Thursday, March 19, 2020

Muy satiafecho. No necesitamos traslado y de los servicios de la web solo necesitamos parking. Por la situación actual tuvimos que volver 3 días antes, y una operaria del parking miró si nos podia salir mas barato pagando sin reserva. No fue posible pero por lo menos lo intento.
Leticia
Monday, March 2, 2020

Llegué de noche y tuve problemas para acceder por que está mal señalado el acceso. Me ayudaron en la gasolinera
jean michel
Sunday, July 15, 2018

Michelle
Sunday, June 3, 2018

Chantal
Monday, May 14, 2018

la barrière ne s'est pas levée à l'arrivée pas de reconnaissance de la plaque d'immatriculation .4 appels pour avoir quelqu'un pour nous envoyer le ticket correspond à ma réservation
Naiara
Monday, April 30, 2018

Raquel
Sunday, April 29, 2018

STEPHANE
Tuesday, April 24, 2018

Marion
Monday, April 23, 2018

bonneau
Sunday, April 22, 2018

Pour nous, tout s'est bien déroulé. Mais nous avons de personnes ayant des difficultés et aucun personnel sur place, difficile à joindre par l'interphone
Béatrice
Saturday, April 21, 2018

J'ai mis la note de 1 concernant le personnel mais je n'ai vu personne ni à mon entrée au parking, ni à mon départ du parking. La note de 1 également concernant le transfert car je n'ai pas eu besoin de transfert et il faut absolument mettre une note pour valider le questionnaire
Jean Pierre
Saturday, April 21, 2018

Parfait Prix payé était celui annoncé sur internet
Monique
Wednesday, April 18, 2018

attention escroquerie, nous avons réservé du 9/4/2018 au 17/04/2018 le prix affiché sur les réservation est de 57 € nous avons dû payer 120,35€ pas de personnel pour réclamation on paye ou on de Niort pas nous avons les justification et déposons s plainte pour escroquerie
XAVIER
Tuesday, April 17, 2018

tres satisfait des services de Parkcloud sauf que je n'arrive pas à trouver la facture de mes 10 jours de parking sur le site
PIERRE
Monday, April 16, 2018

Comme demandé, je me suis présenté devant la barrière afin qu'un ticket me soit délivré. Et bien, j'attend toujours le ticket!!! Malgré mes appels à la borne, et malgré trois personnes différentes à l'interphone, personne ne m'a trouvé une solution afin que je rentre. personne ne se déplace afin de voir le problème!!! Au bout de 45 minutes, il a fallu que je trouve une solution d'urgence, car l'embarqueemnt pour mon avion commençait. Mon épouse, ayant enregistré les bagages, m'appelant en me demandant de venir vite!
nicolas
Friday, April 13, 2018

Javier
Tuesday, April 3, 2018

Monique
Thursday, March 29, 2018

Marie Thérèse
Sunday, March 25, 2018

GEORGES
Thursday, March 22, 2018