Belfast International Long Stay Advance Saver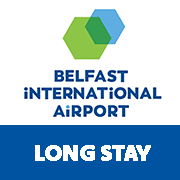 Advance Saver is ideal for those organisers who want to park for more than 4 days and book their space from 3 to 6 days in advance, with correspondingly lower prices.
The Long Stay Car Park at Belfast International Airport is situated just a short walk away from the terminal. With a short transfer time and with a shuttle bus available on request to transport you to the terminal, the Long Stay Car Park is an ideal solution for holidaymakers going away for a period of more than 4 days.
Directions
You will receive a booking voucher containing the car park's address and telephone number, along with any relevant instructions and directions, upon confirming your reservation. To view the location of the car park, please see the map on the website.
Features
24 Hour
Barrier Entry
CCTV
Keep your Car Keys
Open Air
Gated Entry
Secure
Shuttle bus
Free Transfers
Transfers
6 min walk
Customer Reviews
fiona
27 October 2019

The barrier didn't lift on arrival and scanner didn't work we had to take a ticket to get in as there was no one to talk to at 4am. On return again the barrier didn't open but we got out in the end
Joanne
21 October 2019

Let us in but took 15 minutes to let us out very embarrassing as car waiting to get out after us
Jan
18 October 2019

First class and easy to use and book
Jacqueline
16 October 2019

charles
16 October 2019

Not enough Car park spaces and had to park and walk long distance from airportrt
Jill
15 October 2019

Arrived at gate and barrier did not open. Tried to scan the code as directed on email, still barrier didn't lift . Has to buzz for help. Same thing happened on exit which was very annoying especially when there are cars behind waiting.
Deirdre
07 October 2019

It was very reassuring to have the prompt help of staff in providing jump leads to restart our car
Dean
04 October 2019

Returned to the car after our holiday and the battery in the car was dead. Assistance was with us within minutes and helped us along our way within 5-10 minutes. Very helpful. Thank you.
William00
04 October 2019

Hassle free ,parking from start to finish.
James
03 October 2019

Did not see any carpark staff. Transfer service nonexistant. Contact phone not working and a notice stated that we would have to use a mobile to contact staff to arrange collection. One shelter in carpark to avoid getting wet if raining. Surface of carpark very poor making it difficult to wheel cases over it. Also if the park is reasonable full you have to park a considerable distance away on a very poor surface. Airport authority must be making a fortune so why don't they spend some money and offer a proper service. That is a collection service and proper surface in car park. No wonder all the other off site carparks are often full. Why would you park in the airport carpark with a better service available off site.
Margaretta
02 October 2019

We're finding you the best deals
We'll be just a moment
.
.
.