Rated Excellent
Bucharest Otopeni Airport Parking
All our car parks have anti-covid measures
Number of Car Parks
Best Priced per day
Best Rated Car Park
Closest Car Park

14

OTP Parking - Aeroparkng Otopeni

RON9.77

Parcare in Otopeni Bucharest Airport

Park & Fly Bucuresti Otopeni

0.70 Km
How to book Bucharest airport parking with ParkVia
Looking for a convenient and secure parking spot at Bucharest airport? Look no further than ParkVia! Our quick and easy booking process can be completed in just three simple steps. Begin by entering your travel dates in the search box to see what options are available for Bucharest airport parking.
COMPARE
Effortlessly compare prices, services, reviews, availability, and the distance from the terminal to make an informed decision. Discover a wide range of secure parking options that cater to both short and long stays, including indoor and outdoor airport car parks.
BOOK
Once you have identified the perfect parking spot, make your reservation with ease. Our platform offers a variety of additional services, including shuttle bus transfers and luggage storage, to make your trip as comfortable as possible. You can securely pay online, and our best price guarantee ensures that you always get the most competitive price available.
PARK
Relax and enjoy your trip with the knowledge that your car is parked safely and securely. Upon arrival, simply present your booking reservation, and either take a leisurely stroll to the terminals or hop on a free shuttle transfer. Our goal is to provide you with peace of mind and a hassle-free parking experience.
Compar

e

cheap Bucharest airport parkin

g
Booking a parking space at Bucharest airport has never been easier thanks to our user-friendly website. With 14 parking options available, you can easily find a parking spot that suits your needs and budget. Our simple 3-step booking system allows you to reserve your parking space in a matter of minutes, so you can focus on planning your trip instead of worrying about parking.
We take great pride in providing excellent service to our customers, and our 4.91 out of 5 ratings based on over 38,000 customer reviews are a testament to our commitment to customer satisfaction. We strive to ensure that every customer has a seamless parking experience from start to finish.
When you book with us, you can rest easy knowing that your vehicle is well cared for. Our partnered car parks offer safe and secure indoor parking options that protect your vehicle from the elements. Whether you're travelling for business or leisure, you can trust us to keep your vehicle safe while you're away.
If you're planning an extended trip, our long-term parking options are a cost-effective solution. Our airport parking at Bucharest offers peace of mind, knowing that your vehicle is in a secure location while you're away. We understand the importance of having a safe and reliable parking space, and we're committed to providing our customers with the best possible parking options.
Our Bucharest airport parking options provide a hassle-free and secure parking experience for travelers. Our customer-centric approach and commitment to excellence have earned us a loyal customer base, and we look forward to providing you with the same level of service and satisfaction.
What our customers say about parking at Bucharest Otopeni.
Compare Parking at Bucharest Otopeni
View and compare approved car park operators at this location
Car park map
Find the most conveniently located Bucharest Otopeni car parks.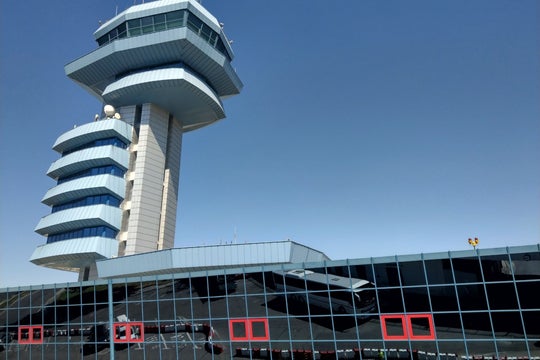 Low cost Bucharest airport parking
At ParkVia, we pride ourselves on offering a wide range of parking options for Bucharest airport that are not only affordable but also of the highest quality. Thanks to our partnerships with top providers in the industry, we can offer an extensive range of parking options, including premium products like meet and greet and individual transfers at unbeatable prices.
Booking your parking spot in advance with us guarantees you the lowest possible rates. We have great book-in-advance rates, which we highly recommend booking as early as possible to get the best deals. With our easy-to-use booking platform, you can select the dates and times of your parking reservation and choose from a range of available options with ease.
We are confident in our competitive pricing and offer a best-price guarantee policy. This policy ensures that you will never pay more for your parking when booking with us than you would have paid if you had booked directly with the car park. If you do find a better price elsewhere, let us know, and we'll refund the difference. Our best-price guarantee policy gives you peace of mind, knowing that you're getting the best deal possible.
We believe that high-quality parking options should be affordable for everyone. Our partnerships with providers and our commitment to offering the lowest possible rates make us the top choice for airport parking in Bucharest. So why wait? Book your parking with us today and enjoy the peace of mind of knowing that you're getting the best deal possible.
Bucharest airport terminal parking
Bucharest airport has two main terminals. Terminal 1 is primarily used for domestic flights, while Terminal 2 is used for international flights. Both terminals offer a range of facilities for passengers, including restaurants, shops, currency exchange services, and VIP lounges. The airport also provides various transportation options to and from the terminals, such as taxi services, public transportation, and car rental services.
Parcare in Otopeni Bucharest Airport is just a few minutes from the terminals and offers private airport parking for passengers departing from Bucharest Otopeni International Airport. The car park has facilities such as: free and individual transfers, overnight stay, toilet, and shuttle bus. It is secure with CCTV cameras, barrier entry, and is open 24/7.
Alana Parking Otopeni is located near the airport terminals and offers safe parking that is easy to find, 24/7 at your disposal. They provide professional long term, insured parking with free transfer by shuttle bus, toilet, WiFi, child seats, meet and greet, luggage minding, van/bus parking, heated vehicle and vehicle condition photography. The car park is secure with night patrol, CCTV, and night patrol.
To ensure that your airport parking experience is smooth and hassle-free, it's important to take a few things into consideration. One of the key factors to keep in mind is the distance between the car park and the terminal. By researching the location of the car park ahead of time and noting the distance to the terminal, you can plan your journey more efficiently and avoid any unexpected delays.
Another important aspect to consider is arranging transfers to and from the terminal. Whether it's through a shuttle service provided by the car park or a taxi, it's crucial to make the necessary arrangements beforehand. We highly recommend booking transfers or making arrangements for them before arriving at the car park. This not only saves you time and stress but also ensures that you arrive at the terminal with ample time to spare.
By taking these steps, you can make the most out of your airport parking experience and start your journey off on the right foot. Planning ahead and being organized can help you avoid last-minute stress and ensure that you have a hassle-free experience from start to finish.
Tips on parking at Bucharest airport
When reserving a parking space at Bucharest airport, it's important to decide whether you prefer indoor or outdoor parking for your car. Opting for indoor parking will shelter your vehicle from weather conditions and leave it in a pristine condition, while outdoor parking is usually cheaper, but may leave your car exposed to the elements.

You will need to consider short or long-term parking at Bucharest airport when you book your parking space as they have a rate difference. With long-term parking, it covers periods longer than 3 days and holds more competitive rates, while with short-term parking they are calculated by the day because they cover fewer days.

If you are planning to use the shuttle service, it's recommended to arrive at the airport three hours prior to departure on the day of your arrival. However, if you plan to use the valet parking service, you can aim to arrive two hours before your flight's scheduled departure.
About Bucharest airport
Bucharest Otopeni Airport, also known as Henri Coanda International Airport, is the largest and busiest airport in Romania. It serves as a major transportation hub for domestic and international flights. The airport has two terminals, with Terminal 1 primarily used for domestic flights and Terminal 2 serving both domestic and international routes. It offers a wide range of facilities and services, including restaurants, cafes, duty-free shops, lounges, and car rental agencies. The airport is easily accessible via public transportation, with several bus and train routes connecting it to the city centre and other destinations in Romania.
Stay connected to receive exclusive deals & offers
Something went wrong.
Thank you!