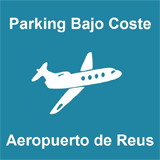 A long awaited alternative car park for customers using Reus Airport has opened up its services. Parking Bajo Coste Aeropuerto Reus provides a new choice of low cost parking with transfers to the airport.
Parking Bajo Coste is located just 15 minutes from Reus Airport. It is a low-cost car park that gives you the option to park your car for a very affordable price at a secured site and be transferred in a company vehicle to the airport, without delay and at no extra cost.
Both the car park and transfers are operational from
06.30 until 23.30
.
The parking and transfer service is only available with a minimum stay of 4 days.
CAR PARK FEATURES:
Covered car park
Child seats available on the shuttle bus
Parking for customers with reduced mobility
Video recording and surveillance system in constant operation 24 hours a day
Night-time security guard
Immediate transfer service
Those customers who are using Tarragona railway stations, but who will return by way of Reus Airport (or vice versa), are offered the chance of having a free transfer to/from Reus Airport from/to the car park at no extra cost.
HOW TO BOOK:
Make a reservation (no booking fees apply) at any time of day or night
Select the dates and times when you want to drop off and collect your car and check availability
By way of confirmation you will receive an SMS text to your mobile phone and an email containing the telephone contact numbers, the exact address and the GPS co-ordinates of the car park. It is essential that you print off a copy of your email confirmation and show it to the car park operator when you arrive to park your car.
HOW IT WORKS:
Once a booking has been made all you need to do is make your way to the car park following the route directions given in the email confirming your reservation
On arrival at the car park you will be transferred straight away to the airport
On your return, on alighting from the aircraft, please call the car park staff so that they can arrange for someone to meet you when you come out of the airport at the same spot where you were dropped off.
Call the car park 24 hours before arrival to the car park to coordinate the operation.
Directions
You will receive a booking voucher containing the car park's address and telephone number, along with any relevant instructions and directions, upon confirming your reservation. To view the location of the car park, please see the map on the website.
Important
IMPORTANT, please note:
Days are counted in 24 hour periods starting from the day and the time that you drop off your vehicle
You are required to leave your car keys with the car park staff so that your vehicle can be moved to a place of safety should the need arise
The rates are valid for standard cars only. All the prices shown include VAT.