Parking Bajo Coste Reus Airport
All our car parks have anti-covid measures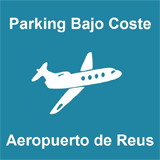 A long awaited alternative car park for customers using Reus Airport has opened up its services. Parking Bajo Coste Aeropuerto Reus provides a new choice of low cost parking with transfers to the airport.
Parking Bajo Coste is located just 15 minutes from Reus Airport. It is a low-cost car park that gives you the option to park your car for a very affordable price at a secured site and be transferred in a company vehicle to the airport, without delay and at no extra cost.
Both the car park and transfers are operational from 06.30 until 23.30.

The parking and transfer service is only available with a minimum stay of 4 days.

CAR PARK FEATURES:

Covered car park
Child seats available on the shuttle bus
Parking for customers with reduced mobility
Video recording and surveillance system in constant operation 24 hours a day
Night-time security guard
Immediate transfer service
Those customers who are using Tarragona railway stations, but who will return by way of Reus Airport (or vice versa), are offered the chance of having a free transfer to/from Reus Airport from/to the car park at no extra cost.
HOW TO BOOK:
Make a reservation (no booking fees apply) at any time of day or night
Select the dates and times when you want to drop off and collect your car and check availability
By way of confirmation you will receive an SMS text to your mobile phone and an email containing the telephone contact numbers, the exact address and the GPS co-ordinates of the car park. It is essential that you print off a copy of your email confirmation and show it to the car park operator when you arrive to park your car.
HOW IT WORKS:
Once a booking has been made all you need to do is make your way to the car park following the route directions given in the email confirming your reservation
On arrival at the car park you will be transferred straight away to the airport
On your return, on alighting from the aircraft, please call the car park staff so that they can arrange for someone to meet you when you come out of the airport at the same spot where you were dropped off.
Call the car park 24 hours before arrival to the car park to coordinate the operation.
Directions
You will receive a booking voucher containing the car park's address and telephone number, along with any relevant instructions and directions, upon confirming your reservation.
To view the location of the car park, please see the map on the website.
Important
IMPORTANT, please note:

Days are counted in 24 hour periods starting from the day and the time that you drop off your vehicle
You are required to leave your car keys with the car park staff so that your vehicle can be moved to a place of safety should the need arise
The rates are valid for standard cars only. All the prices shown include VAT.
Features
Disabled Parking

Tarmaced

Child Seats

CCTV

Undercover

Meet and Greet

Shuttle bus

Anti-Covid Measures
Customer Reviews
Herman
Monday, September 30, 2019

NAIR
Tuesday, September 3, 2019

Esta un poco lejos del destino pero la verdad es que te lo ponen muy fácil!
Stephen
Monday, August 26, 2019

Excellent all-round. This was my first experience using the service in Reus. The price was excellent, the service great; I will definitely use the service again if I fly from Reus and will definitely recommend the service to others. Great!
Joy
Sunday, April 28, 2019

Eduard
Tuesday, April 9, 2019

Juan Miguel
Saturday, March 23, 2019

Vicente
Saturday, March 23, 2019

Muy bien todo, ya he recomendado a varios el servicio, y eso es buena señal.
Joy
Wednesday, January 16, 2019

Pilar
Wednesday, October 31, 2018

Gabriel
Thursday, October 25, 2018

Carmen
Thursday, October 25, 2018

hendricus marcus
Sunday, September 30, 2018

the route to the location wasnt up to date,in fact,that needs changes,cause if you have never been in that area,you look,but wont find,and it is pretty easy,they are located right on the side of the rotary,which one...they need to clarify that on their website.
Steve
Friday, September 21, 2018

Elisabeth
Friday, September 14, 2018

Miguel
Wednesday, August 29, 2018

Esther
Wednesday, August 29, 2018

Servicio inmejorable tanto a la hora de dejar el coche como para recogerlo. Personal amabilísimo y competente. Para cuando llegó el vuelo ya nos habían traído el coche para el regreso. Insisto, experiencia inmejorable y muy bien de precio.
Thomas
Thursday, August 23, 2018

Como siempre, todo perfecto
RAMON
Monday, July 23, 2018

Aleksandra
Monday, July 16, 2018

Genial! Personal muy amable! Sin espera. Un coche fresco esperándonos después de un viaje largo.
Colin
Wednesday, July 11, 2018

Great service, good price.