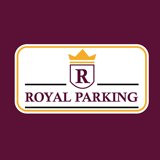 Open 24 hours. Located 250 meters from the airport. Meet and Greet. Offers open-air and undercover spaces. Fully fenced with 24-hour surveillance.
A young and dynamic company, Royal Parking are committed to providing high quality services. They are able to do this as a result of the experience acquired in the last few years in LowCost business.

Their main goal is to provide a service of excellence at a reduced cost, in which your car is their priority.

Their facilities are covered by civil liability insurance. This includes all types of risks and damages that may occur, whether on the inside or in-between our facilities and the airport. Other benefits include:
24/7 video surveillance,
alarm system,
highly qualified staff, who have held their driving license for a minimum of 5 years.
Como chegar
Após efetuar sua reserva, receberá um comprovativo com a morada e o número de telefone do parque de estacionamento, juntamente com todas as instruções e direções relevantes. Para saber a localização do parque de estacionamento, por favor veja o mapa no website.