Mais de 4 milhões de clientes satisfeitos
Classificação Excelente
Barcelona Airport Parking
Temos 12 parques de estacionamento de confiança para escolher em Barcelona
Número de parques de estacionamento
Melhor preço por dia
Parque de estacionamento com a melhor avaliação
Parque de estacionamento mais próximo
12
Good Parking BCN Vilamarina Undercover

€3,58

Hotel Barcelona Aeropuerto Affiliated by Meliá
Travel Parking BCN

0,00 Km
About Barcelona Airport Parking
When it comes to airport parking every individual has different needs and wants when choosing the most suitable Barcelona Airport parking option for them. Therefore, that's why ParkVia covers all options for you at Barcelona Airport. Whether this be long or short-stay parking, park-and-ride opportunities located close to the airport or other additional options such as hotel parking, meet-and-greet areas and local car parks with taxi access, this allows you to be in control of the most convenient option for you.
We also understand Barcelona is an incredibly busy airport, therefore booking in advance allows you to book a secure car park space at the most cost-effective price. The earlier you book, the more likely you are to access a cheaper price, booking in advance has never been as easy as you can pre-book online for that extra bit of convenience.
O que os nossos clientes dizem acerca do estacionamento no Barcelona
Comparar estacionamento no Barcelona.
Ver e comparar operadores de parques de estacionamento aprovados nesta localização
Mapa do parque de estacionamento
Encontre os melhores parques de estacionamento localizados no Barcelona.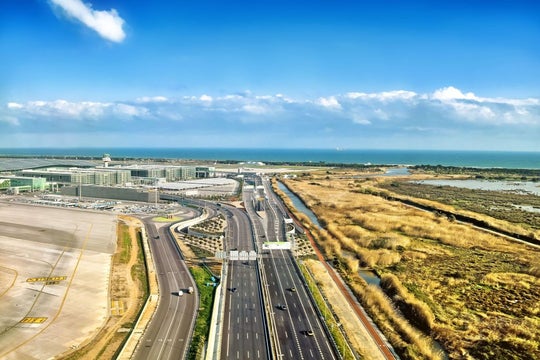 Cheap Parking at Barcelona Airport
Whether you're looking for short term or long term parking at Barcelona Airport, by booking in advance with ParkVia you can save up to 60% off the price you would have paid on the day! You can also be confident, thanks to our Best Price Guarantee, that you will never pay more when booking with ParkVia than you would if you had turned up without a reservation and paid on the day of your flight.
Barcelona Airport Parking Terminal 1 and Terminal 2
Whichever terminal you're flying from, all car parks at Barcelona Airport that are not within easy walking distance offer a shuttle or transfer service to take you to the terminal of your flight. For extra convenience, you may book with one of the official car parks at either T1 or T2 which are within a few minutes walk to the terminal buildings.
Alternatively, you can opt for meet and greet parking where your car will be collected from you outside the terminal of your choice, parked securely and then returned to you as soon as you arrive back, saving you time.
Barcelona airport information
Barcelona-El Prat Airport is located southwest of the city, between the cities of El Prat de Llobregat, Sant Boi and Vilamoura. The airport handled more than 47 Million passengers in 2017. With two large terminals, this airport works with an impressive 71 airlines which fly to and from the airport every day. The most popular of which being British Airways, Iberia and easyJet flying the most to Barcelona-El Prat. A frequent shuttle bus connects Terminals 1 and 2 if you need to travel through the airport. From Burger King and TGI Fridays to Coffee Republic, Starbucks and plenty more, both terminals have over 200 square foot worth of shopping areas and with dining options offering Spanish cuisine as well as UK chains that are available to every visitor of Barcelona Airport to make your experience feel like as comfortable as possible.
Inscreva-se na nossa newsletter para receber informações e ofertas exclusivas: