Park Low Cost - Treviso Official Airport Parking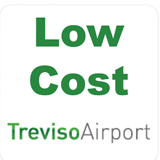 Official Airport Car Park!
250 Uncovered Car SpacesIn front of the Airport - via "le Canevare" (Treviso) Just 300 metres away from the Terminal
Navodila
Ob potrditvi svoje rezervacije, boste prejeli potrdilo, ki bo vsebovalo naslov in telefonsko številko parkirišča, skupaj z vsemi ustreznimi navodili in smernicami. Če si želite ogledati lokacijo parkirišča, si oglejte zemljevid na spletni strani.
Lastnosti
24 ur
Vhod z rampo
Parkirišče na prostem
Komentarji strank
Nina
četrtek, 21. november 2019

Patricija
torek, 05. november 2019

Maria Cinzia
ponedeljek, 04. november 2019

elisabeth
nedelja, 03. november 2019

The directions to the parking took me to the wrong car park and I had to pay an extra 100 euros in parking fees. Totally not satisfied with this service and wish to request a refund. My dates were 26/10 to 2/11 car registration.PU689TI. Please respond asap. e mail liscroatia@me.com Thankyou Lis Katavic
Darko
sobota, 02. november 2019

At the parking place is missing a sign of your company ParkVia. When park there you cant know if you are at the right place. At reservation over internet you should send an email with PDF document of reservation and invoice. And when exit parking place it should be easier. Calling a guy at the gate is not a solution.
Peter
sobota, 02. november 2019

TANJA
petek, 01. november 2019

Andreja
petek, 01. november 2019

Fernando
četrtek, 31. oktober 2019

Esperienza molto positiva. Da ripetere
Slavisa
sobota, 12. oktober 2019

Vanja
sreda, 09. oktober 2019

ANDREJA
sreda, 25. september 2019

Antonino
sreda, 25. september 2019

Nataša
ponedeljek, 23. september 2019

Matjaz
četrtek, 19. september 2019

Srečko
torek, 17. september 2019

ROSSELLA
ponedeljek, 16. september 2019

Ulrike
ponedeljek, 16. september 2019

Ruslan
ponedeljek, 16. september 2019

Dragana
sobota, 14. september 2019

Iščemo vam najboljše ponudbe
Samo trenutek ...
.
.
.