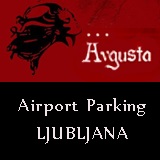 Avgusta Airport Parking provides open air car parking 24 hours a day , all year round. It also includes a shuttle service to and from Ljubljana Airport. All you need to do to secure a parking space is pre-book online; there is no booking fee.
Avgusta Airport Parking Ljubljana is located only 4 minutes away from Ljubljana Airport and offers alternative parking for all those passengers using the airport.
The car park is open 24 hours per day, and is well-lit during the night. It also provides use of the Internet. In addition, Avgusta Airport Parking Ljubljana offers all its customers a car wash. The price of the car wash will be agreed on arrival at the car park. Customers can, if requested in the Special Request box, keep their vehicle keys with them or hand them over to the car park staff.
Shuttle transfer to Joze Pučnik Ljublajna Airport:
The car park offers a shuttle transfer to the Airport. The vehicle used is a VW Transporter , which can accommodate up to 8 people. On arrival at the car park, you will be taken immediately to the Ljubljana Airport terminal. On your retun to Ljubljana, please call the car park phone number to avoid waiting unnecessarily.
Indicazioni
A prenotazione avvenuta riceverà una conferma via email con tutte le informazioni necessarie, tra cui l'indirizzo del parcheggio, il recapito telefonico e le indicazioni stradali per raggiungerlo. Per visualizzare la posizione del parcheggio, si prega di guardare la mappa presente sul sito web.