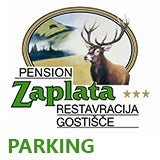 Guesthouse Zaplata now offers a secure and alternative car park for customers departing from Ljubljana Airport. Conveniently located just 10 minutes away from the airport terminal, it is NOT necessary to be a resident of the guesthouse in order to make use of a parking space, but pre-booking is essential. Customers must leave their car keys at the Hotel Reception.
Guesthouse Zaplata airport parking
is located just 10 minutes away from Ljubljana Airport.
To ensure a parking space, you do not need to stay in the hotel, but pre-booking is essential
. Located just a few minutes away from the city of Kranj, and 30 minutes from Slovenia's capital city of Ljubljana,
Guesthouse Zaplata airport parking
offers
spacious open air parking
with a few
additional spaces in its garage
, subject to availability.
Features of the Car park are:
Open air parking
Parking spaces in the garage
Well lit
Easy access to main roads
Car wash available; please enquire at the guest house for more details.
Due to security reasons all customers must leave their car keys at the reception of the hotel upon their arrival.
SHUTTLE SERVICE:
Guesthouse Zaplata airport parking
also offers
a free return shuttle service to / from Ljubljana Airport every day between 7 am and 10 pm
. The service must be pre-ordered by telephoning the guest house directly once a parking reservation has been made. On your return to Ljubljana, after you have reclaimed your luggage, please contact the guest house again and within 10 minutes you will be picked up and transported back to the car park. For transfers between 10 pm and 7 am, an "out of hours" charge is made for the shuttle service at
€6 per single journey
. Transfers are made in a
van which can transport a maximum of 8 people
at a time.
SPECIAL OFFER:
Guesthouse Zaplata airport parking is currently offering a special promotion to all its customers who choose to stay at the guest house:
bed and breakfast at 10% discount per person
. For customers with time to spare or who may be waiting for transport, there is also a
bar
, which is open continuously from 7 am until the evening, and a
restaurant
which is open from noon until 9 pm.
Indicazioni
A prenotazione avvenuta riceverà una conferma via email con tutte le informazioni necessarie, tra cui l'indirizzo del parcheggio, il recapito telefonico e le indicazioni stradali per raggiungerlo. Per visualizzare la posizione del parcheggio, si prega di guardare la mappa presente sul sito web.
Important
The guest house accepts payment for parking in cash or by credit card.