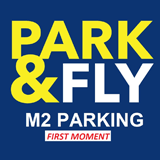 Closest parking to Bratislava Airport! PARK & FLY - M2 PARKING - FIRST MOMENT offers outdoor parking with free shuttle transfer to and from the airport. The car park is secure and cheap.
PARK & FLY - M2 PARKING - FIRST MOMENT is fenced in, well lit, gated and guarded 24 hours a day by security staff, so you needn't worry about the safety of your car. Shuttle transfers to and from the airport are available.
Child seats are not available. The car park offers disabled parking spaces and does not require you to leave your car keys. Should you have problems starting your car on your return, staff will happily help you get it back on the road.
On the day of your departure please drive directly to the car park. The shuttle bus driver will help you with your luggage and transfer you to the airport in a comfortable minibus. The journey takes only 3 minutes.
On your return please collect your luggage and call the car park for the return transfer.
Útmutató
Fog kapni egy foglalási visszejelzést, ami tartalmazza a parkoló címét és telefonszámát, szükséges információkat és az útmutatót a parkolóhoz jutáshoz, amint az Ön foglalása meg lett erősítve. Ha meg szeretné tekinteni a pontos parkolási helyet, kérem látogassa meg a weboldalon található térképet.
If you book parking for 1-3 days and wish to be transferred to/from the airport, you need to book the Shuttle Transfer at a surcharge of 10 euros.