Heraklion Official Airport Parking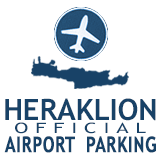 Official car park at Heraklion Airport. It is located just 50 meters from the arrivals terminal. The car park offers open air parking spaces.
Heraklion Airport Parking provides open air parking spaces. The car park is constantly monitored by security patrol. How it Works: Drive directly to Heraklion Airport. When you enter the car park, pick up your entry ticket at the control barrier, you can then park your vehicle and walk to the departures terminal. It is located only 50 meters from it. When you return, you will need to present your booking voucher to the car park staff and pay for your stay. The car park staff will raise the barrier, allowing you to exit.
Routebeschrijving
Na bevestiging van uw reservering, ontvangt u een boekingvoucher met daarin het adres en telefoonnummer van de parkeerplaats, samen met alle relevante informatie en instructies. Om de locatie van het parkeerterrein te weten, gelieve de map op de website te bekijken.
Functies
24 uur
Ingang slagboom
Houd uw autosleutels
Goed verlicht
Beveiligd
Nachtelijke bewaking
Openlucht
Geasfalteerd
Evaluaties van klanten
Maja
donderdag 16 januari 2020

Χρηστος
woensdag 8 januari 2020

olwyn
zaterdag 4 januari 2020

Sally
donderdag 2 januari 2020

Michael
zaterdag 26 oktober 2019

peter
zaterdag 19 oktober 2019

Per
maandag 14 oktober 2019

Easy to operate the website Nice and convenient For long time parking there could be lower rates.
Γιάννης
zondag 13 oktober 2019

Michael
donderdag 10 oktober 2019

Very handy location. Allows easy access to airport.
Michail
donderdag 12 september 2019

Diacakis
vrijdag 30 augustus 2019

Sofia
donderdag 29 augustus 2019

ΓΙΩΡΓΟΣ
maandag 12 augustus 2019

Michael
woensdag 17 juli 2019

Yves
zaterdag 6 juli 2019

ΝΕΚΤΑΡΙΟΣ
vrijdag 28 juni 2019

Stanley
woensdag 5 juni 2019

Travis
zondag 19 mei 2019

Ronald
woensdag 15 mei 2019

YVES
zaterdag 27 april 2019

Wij vinden de beste deals voor u
Een ogenblik geduld a.u.b. ...
.
.
.