Plus de 4 millions de clients satisfaits
Classé Excellent
Nombre de parkings
Meilleur prix par jour
Parking le mieux noté
Parking le plus proche
2
ibis Hotel Underground Parking Mulhouse Airport

€6,35

NewAirpark - Open Air
ibis Hotel Underground Parking Mulhouse Airport

2,54 Km
About Mulhouse Airport parking
Driving to Basel Airport and need somewhere to park your vehicle? You've come to the right place! Here on the ParkVia website, you'll find lots of parking spaces for your car just a 10-minute walk from Basel Airport. It is quick and easy making a booking for Basel Airport when you use the ParkVia website. So don't delay – get your trip off to the best start and pre-book Mulhouse Airport parking though the ParkVia website today.
The underground parking garage just a short distance away from Mulhouse Airport is well lit and protected by CCTV and also manned by security personnel 24/7 so you can rest easy knowing your car is in safe hands while you're away. The car park also runs a free shuttle service between 6 in the morning to 10 at night, meaning you have plenty of choice during the day to book parking at a time that suits you best.
So, if you'd like parking for your car a short distance away from Mulhouse Airport remember that the ParkVia website is the place to go!
How do I book my Mulhouse Airport parking?
Reserving a parking space through the ParkVia website is not only fast but simple too. Simply add the dates and times you'd like to drop off and pick up your vehicle and then hit the 'Search' button. Next just pick the car park you'd like and then fill out the booking form that follows on the page after. Your booking is now complete. Now just sit back and wait for your email confirmation to come through - the latter containing all the essential information you'll need for your trip.
Ce que disent nos clients du stationnement à Mulhouse
Comparez le stationnement à Mulhouse.
Visualisez et comparez les opérateurs de parking agréés à cet endroit.
Télésurveillé

Patrouille de nuit

Wifi

Stationnement couvert

24 heures

Barrière à l'entrée
Carte des parkings
Trouvez les parkings de Mulhouse les mieux situés.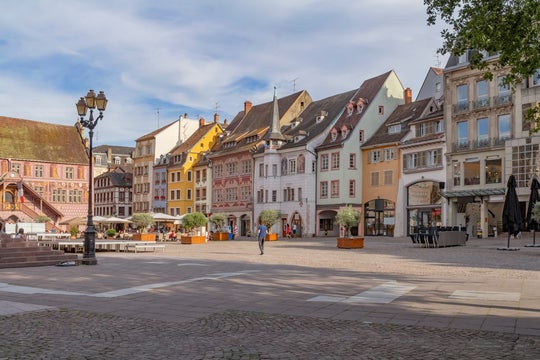 Mulhouse Airport information
Mulhouse Airport is an international airport located 3.5 km northwest of Basel in Switzerland, 20 km southeast of Mulhouse in France, and 46 km southwest of Freiburg im Breisgau in Germany.
The airport serves as a base for easyJet Switzerland and Belair, which operates on behalf of Air Berlin. Mulhouse Airport is one of the few airports in the world operated jointly by two countries, in this case France and Switzerland.
Inscrivez-vous à notre newsletter pour recevoir des informations exclusives et des offres:
Something went wrong.
Merci!