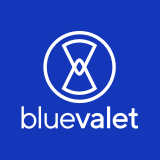 Blue Valet is providing an on-site meet & greet parking available from 5.00am to 11.00pm.
How the service works:
On your arrival day: once the booking has been made, your valet will be assigned. The Blue Valet car park will send a SMS containing the number of your valet, to the phone number you have given when making the booking.
Fifteen minutes prior to your arrival at the station please call your valet to confirm your arrival. His punctuality is guaranteed even if your arrival time differs.
Your Blue Valet driver will be in a dark blue uniform and will wait for you. He will assist you with your luggage and conduct an inventory of your vehicle. He will drive your car directly to the secure car park.
On your return : The car park requests that you confirm your arrival with a phone call to the valet when you are collecting your luggage.
After you have phoned, you may proceed straight to the meeting point where your car will be waiting for you.
Indicaciones de ruta
Una vez se confirme su reserva, recibirá un bono de confirmación con la dirección, el número de teléfono del parking y cualquier información relevante. Para ver la ubicación del aparcamiento, por favor vea el mapa en la página web.