Clayton Hotel Dublin Airport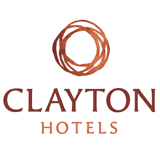 Luxury hotel car park, open 24/7 with a free shuttle bus to and from the airport.
Upon arrival: take a ticket from the machine and park your car in the car park. Retain the ticket for your return. Proceed to take the shuttle bus from the designated bus stop area, near the hotel. On your return: you can board the shuttle bus from Zone 16 outside terminal 1 at the airport. The shuttle bus runs 24h a day every 25-30 minutes.
Directions
You will receive a booking voucher containing the car park's address and telephone number, along with any relevant instructions and directions, upon confirming your reservation. To view the location of the car park, please see the map on the website.
Features
Free Transfers
Shuttle Bus
Flat Battery Jump Start
Well Lit
CCTV
Undercover
24 Hour
Transfers
6 min
Customer Reviews
Fabio
Thursday 23 May 2019

Recommend, everything as expect.
Paul
Thursday 9 May 2019

Very convienient. Very pleasant bus drivers☺
Gerard
Tuesday 7 May 2019

Never fails, Great service from start to finish, thats why I always use this site, Thanks again Gerard Stewart.
Ashling
Monday 15 October 2018

Sean
Tuesday 2 October 2018

Lubomir
Sunday 16 September 2018

Elaine
Saturday 15 September 2018

Waited an hour for transfer back to hotel then there wasn't enough room on the bus had to wait another 30 minutes very poorly managed
john
Saturday 15 September 2018

Long wait for bus from airport to hotel ?
Linda
Thursday 16 August 2018

It was an excellent service, the only problem we had was when we arrived at the hotel there was no way of knowing when the bus would arrive. It would be helpful if there was a timetable available
Annette
Tuesday 14 August 2018

When we arrived there were no parking spaces anywhere. We circled the car parks several times. Cars were parked on kerbs and all along the entrance to the underground car park making it very difficult to pass. We could not find anyone to help us. I rang the hotel and was told that they had just been made aware that there was no parking available. We were running out of time so had to park in the staff car park at the rear of the hotel. We weren't one bit happy leaving our car here in the open unsecured car park but had no choice. On return we qued for a long time to have our exit ticket validated in the hotel. Overall a very stressful experience.
Evaldas
Saturday 11 August 2018

NICHOLAS
Saturday 11 August 2018

Staff were friendly and very helpful but the car parking was ridiculous far too many cars and not enough spaces when you book online it makes it seem as if you have a space reserved for you this is not the case I found out when arrived was told to park where I could even though I had requested underground parking in my booking notes.
William
Monday 6 August 2018

This was an excellent location, easy to find just of the motorway. Had friendly hotel staff, very helpful and great shuttle bus service, timely, fast and clean!!
Sinead
Wednesday 25 July 2018

Parking the car was difficult as busy but time of year and transfer back was over a half hour waiting and was 1am with two children. Other than that was good experience
kieran
Sunday 22 July 2018

James
Wednesday 18 July 2018

Simon
Sunday 8 July 2018

Your website advertises the distance from the car park to the airport as 2.1km however Google maps shows the distance as 4.7km. This piece of information misled us to believe the car park was closer. We were also very unimpressed with the hotel staff. They seemed purposely vague about the shuttle bus, advising that we should have given ourselves 30mins for this service. They also insisted that there was no timetable for the shuttle bus, and that we just needed to wait! While the shuttle bus service was pretty good on our return, however the staff at the hotel were unhelpful and obstructive. Lastly the car park was so tight and it was V difficult to find a space.
Mark
Wednesday 4 July 2018

Cars parked hap hazzardly on lines etc in the Clayton.Could benefit from monitor!
barbara
Wednesday 4 July 2018

Highly recommend brilliant service
We're finding you the best deals
We'll be just a moment
.
.
.