Rainbow Parking and Shuttle - Meet and Greet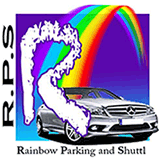 Rainbow Parking and Shuttle meet and greet parking service for passengers flying from OR Tambo International Airport.
Do you know that parking cost a lot and can be frustrating? We at Rainbow Parking and Shuttle offer you the possibility to beat this problematic.
We gladly offer you a secure parking around OR Tambo airport at very very very affordable prices. Don't worry when we say very very very, it means we really have the best affordable prices. With our dear drivers, we will meet you at the drop off zone and take good care of your vehicle while you are away on business or on holiday.
Directions
You will receive a booking voucher containing the car park's address and telephone number, along with any relevant instructions and directions, upon confirming your reservation. To view the location of the car park, please see the map on the website.
Features
Undercover
Valet
Uniformed Drivers
Valeting Available
24 Hour
Secure
Customer Reviews
Piet
Saturday, 05 October 2019

Not easy to find the driver qt drop off and pick up. Driver should call customer when he is there to collect and drop off.
Sally-Ann
Saturday, 05 October 2019

our car made a lot of mileage whilst we were away: 122 km. according to the rainbow website the parking area is within the airport precinct. i will be claiming the excessive mileage back. also there was some damage to the car, which looked deliberate. this was not easy to see on taking over the car.
Gerrit
Tuesday, 17 September 2019

Doreen
Monday, 16 September 2019

I will use this service every time when I need to travel.
Austin
Friday, 23 August 2019

An SMS to confirm pick up location would have been helpful. Unusual to fetch car at departures and not arrivals.
Gert
Tuesday, 07 May 2019

Sarah
Monday, 29 April 2019

My car had half a tank of petrol when I dropped it off, and upon its return, it only had a quarter. To my knowledge, the parking warehouse is a 3 minute drive from the airport - so I don't understand where my petrol would have been used up. Unimpressed, but other than that - my experience with ParkVia and Rainbow Shuttles is always pleasant.
Heidi
Wednesday, 27 February 2019

Danie
Monday, 04 February 2019

Sarah
Monday, 04 February 2019

Overall a very satisfactory and easy-to-navigate process. :)
Frokina
Monday, 21 January 2019

Frokina
Tuesday, 08 January 2019

Elzann
Sunday, 06 January 2019

My car had been washed, but the windscreen was not very clean and the tyres dirty. Overall good experience though.
Henry
Tuesday, 01 January 2019

We found their service to be very poor. First of all when we arrived at the airport, there was no-one there to meet us, despite us indicating that we will be there at a specific time. We had to phone around and waited 20 minutes before the assistant arrived. We also had to wait almost 20 minutes when we returned before we received our vehicle. Sometimes there is a valid reason why you do not opt for the cheapest option, and this was one of those times. The competition looked better prepared and we shall definitely be looking at them in the future.
Hilary
Monday, 31 December 2018

The Airport Traffic Officers were making it very difficult for the car park staff to collect and deliver cars
George
Saturday, 29 December 2018

Despite calling the company during pick up, they never responded and never showed up. Very unreliable. I request a full refund please
Gloria
Saturday, 29 December 2018

DERICK
Saturday, 29 December 2018

Kathryn
Thursday, 27 December 2018

Andre
Tuesday, 18 December 2018

We're finding you the best deals
We'll be just a moment
.
.
.