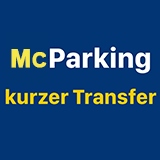 The parking is completely fenced, video-monitored and 24 hours staffed.
With 2.000 spaces McParking Königspark is the largest off-airport parking lot for Berlin Schönefeld airport. It has an ideal connection to mortorway A10 and is an ultra-low-cost alternative for the price sensitive customer. The shuttle bus runs every 30-60 minutes at fixed times in order to provide for optimal travel planning. From 04:00-11:00 and 16:00-23:00 the transfer takes place every 30 minutes and outside this time every 60 minutes. The transfer time to the airport is app. 15 minutes. The car park also offers special parking spaces, free jump-starting assistance and much more.
Please note that no bulky baggage is transported. It must be checked-in at the airport before arrival at our lot. The transfer for 4 persons is included in the price. From the 5th person, an additional payment of 5 € per person will be charged.
24/7 shuttle service
Free toilets
Parking spaces for disabled customers
Free jump-starting assistance
Secure parking - fenced ground, video surveillance, 24 hours staffed
From McParking Königspark there is a slightly longer travel distance to the airport, but you save a lot of money. You park your vehicle on our monitored parking lot in Königs Wusterhausen and our shuttle will take you to Terminal B at Schönefeld Airport. Please note that this tariff is non-refundable.
Dojazd
Adres, telefon parkingu oraz potrzebne wskazówki wraz z opisem dojazdu otrzymają Państwo w potwierdzeniu po dokonaniu rezerwacji. Lokalizacja widoczna jest na mapie umieszczonej na stronie.