Belfast International Long Stay Advance Saver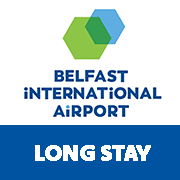 Advance Saver is ideal for those organisers who want to park for more than 4 days and book their space from 3 to 6 days in advance, with correspondingly lower prices.
The Long Stay Car Park at Belfast International Airport is situated just a short walk away from the terminal. With a short transfer time and with a shuttle bus available on request to transport you to the terminal, the Long Stay Car Park is an ideal solution for holidaymakers going away for a period of more than 4 days.
Routebeschrijving
Na bevestiging van uw reservering, ontvangt u een boekingvoucher met daarin het adres en telefoonnummer van de parkeerplaats, samen met alle relevante informatie en instructies. Om de locatie van het parkeerterrein te weten, gelieve de map op de website te bekijken.
Functies
24 uur
Ingang slagboom
Cameratoezicht
Houd uw autosleutels
Openlucht
Omheinde ingang
Beveiligd
Shuttle bus
Gratis transfers
Transfers
6 min te voet
Evaluaties van klanten
Simon
donderdag 19 maart 2020

Due to the current travel situation I had to cancel my flight and unfortunately was unable to travel my car parking. Will revert back to booking directly with Belfast Intl Airport as it is early to amend and cancel.
John
woensdag 18 maart 2020

slightly cheaper than others and easy to book and setup
Marcus
dinsdag 17 maart 2020

Q's 1 & 3 are not applicable so my rating is irrelevant.
siobhan
donderdag 12 maart 2020

great convenient option only short walk to terminal. easy and no hitches
Patrick
woensdag 11 maart 2020

Carla
maandag 9 maart 2020

Shaun
maandag 9 maart 2020

Couldn't get in or out with the QR code on my email I had to press the buzzer both in and out
Ling Sene
dinsdag 3 maart 2020

CHRISTOPHER
maandag 2 maart 2020

Absolutely to problems at all, drove in, drove out, like the shopping mall every week.
hilary
maandag 2 maart 2020

Julie
zaterdag 29 februari 2020

Kenneth
woensdag 26 februari 2020

Unable to find the carpark. Not clearly sign posted.
PAUL ANTHONY
zondag 23 februari 2020

good easy to use service, no problems
Colin
dinsdag 18 februari 2020

Dermot
maandag 17 februari 2020

Donna
donderdag 13 februari 2020

Seán
maandag 10 februari 2020

Staff and transfer not applicable
Dorothy
woensdag 5 februari 2020

REG
vrijdag 31 januari 2020

Jean
zaterdag 25 januari 2020

Wij vinden de beste deals voor u
Een ogenblik geduld a.u.b. ...
.
.
.