P1 Undercover - Venice Official Airport Parking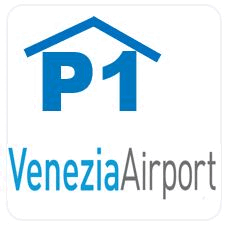 Službeno parkiralište zračne luke samo 150 m od terminala!
Parkiralište pokriva 2,000 mjesta za automobile direktno povezan s terminalom
< li>Vaš automobil je siguran od oluje s gradom, snijega i kiše< li>Do terminala ćete stići za manje od 2 minute šetnje
Uputstva
You will receive a booking voucher containing the car park's address and telephone number, along with any relevant instructions and directions, upon confirming your reservation. Za prikaz lokacije na parkiralištu, pogledajte kartu na web stranici.
Značajke
24 sata
Natkriveno
Barijera na ulazu
Ocijena korisnika
Daniele
4. siječnja 2020.

SIMONETTA
19. prosinca 2019.

Tomislav
21. listopada 2019.

Monika
14. listopada 2019.

Marija
5. listopada 2019.

Sieglinde
4. listopada 2019.

Alessandro
3. listopada 2019.

Cristian
9. rujna 2019.

Non abbiamo avuto bisogno del personale ne di trasferimento Ottimo servizio al coperto e si raggiunge l'aereoporto Senza mai uscire dallo stabile
Angelica
9. rujna 2019.

Per un'ra di ritardo dovuto all'aereo ho dovuto pagare l'intera giornata
Angelo
29. kolovoza 2019.

Giovanni
26. kolovoza 2019.

The booking confirmation went to my GMAIL spam. I could not remember which park I booked and when I call the operator he let me in the Park number 6, which is not covered and is far awy from the airport. I then spoke to the operator explaining the situation and he told me not to worry. I also stated that my return could be delayed by half a day, and he said not to worry. On my return, there was a 2 hours delay and I was nevertheless charged additional 18 euros. Not happy about my experience.
renzo
25. kolovoza 2019.

Ia sensazione di aver lasciato l'auto in questo parcheggio e' stata di sicurezza e protezione...sono partito e tornato senza pensieri in merito all'auto
Pronalazimo najbolje ponude za vas.
Molimo pričekajte trenutak…
.
.
.