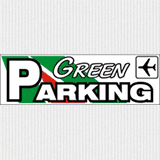 Green Parking offers undercover spaces. It is open 24/7 days a week, and offers free transfers to T1 and T2.

CUSTOMERS PAY THE CAR PARK DIRECT.
Green Parking is offers undercover places and free shuttle bus transfer to the airport. The interior parking areas are within enclosed hangars protected by a video surveillance and alarm system and benefit from a special anti-dust surface. Furthermore, the entire building is protected by a fence, a CCTV camera system and night time patrols by competent and qualified staff. Finally, the car park is covered by insurance against fire and theft.
On arrival at the car park customers park their vehicle in the reception area where they will find the shuttle bus. Customers can choose to have their vehicle photographed and their mileage recorded on the registration form; the same must be done for any valuables customers may wish to leave in their vehicle. The vehicle will then be parked by car park staff in the allocated parking space.
On their return, Customers will find their vehicle waiting to be picked up in the reception area.
Prepayment is not required. You simply pay on arrival (cash or card).
Directions routières
Vous recevrez un bon de réservation avec l'adresse et le numéro de téléphone du parking ainsi que toutes les instructions et indications routières utiles, après confirmation de votre réservation. Pour afficher l'emplacement du parking, merci de regarder la carte sur le site.