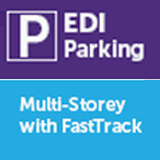 Covered parking located right at the Terminal, including fastTRACK security. Up to 5 people can use the FastTrack Bridge on level 2 of the multi-storey car park, which takes you straight into our new security hall.
Get from your car to the departure lounge in around 5 minutes. Super quick and ideal for the business traveller or who like to make a quick getaway; Full Park Mark award accredited car park with CCTV so you know your car will be safe and secure while you are away; Your car will be waiting for you when you return.
To use the bridge and skip check-in, you will need to be pre-checked in and have your valid boarding pass (e-ticket or paper copy), and only have hand luggage. Your parking reservation will still be valid for fastTRACK if you need to use check-in or bag drop.
Directions routières
Vous recevrez un bon de réservation avec l'adresse et le numéro de téléphone du parking ainsi que toutes les instructions et indications routières utiles, après confirmation de votre réservation. Pour afficher l'emplacement du parking, merci de regarder la carte sur le site.