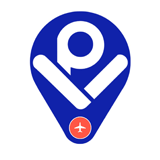 Secure parking (guards, barriers and cameras 24/7), and accessible (7d / 7 from 4:30 to 22:30 on reservation). A shuttle service (free) is available during opening hours.
ON ARRIVAL :
1. Introduce yourself on the day of departure to the address provided in the confirmation email (at your car park) 10 minutes before the time you indicated when booking.
2. Call the phone number provided in the confirmation email for an agent to support you.
3. Park your vehicle on the location he will tell you.
4. Present him your confirmation email, and give him your keys.
5. From the car park, a free shuttle will drop you off in 5 minutes at the airport.
ON RETURN:
1. After collecting your luggage, you can call the phone number provided in the confirmation email.
2. The shuttle will pick you up at the place where it dropped you off. You must present the confirmation email.
3. In case of delay, please contact the car park.
Reminder: Be on the car park at least 2:00 before the check-in. Any entrance / exit of the car park is unique.
Important: Vans, vans, motorcycles and scooters are not accepted in the car park. In case of default the partner will be able to apply a surcharge to these customers or to refuse them.
Indicaciones de ruta
Una vez se confirme su reserva, recibirá un bono de confirmación con la dirección, el número de teléfono del parking y cualquier información relevante. Para ver la ubicación del aparcamiento, por favor vea el mapa en la página web.