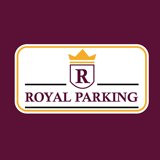 Open 24 Hours. Located at only 250 meters from the airport. Meet and Greet. Offers open air and undercover spaces. Fully fenced and surveilled.
They are a young and dynamic company committed to high quality services, result of the experience acquired in the last few years in LowCost business.

Their main goal is to provide a service of excellence at a reduced cost, in which your car is their priority, under surveillance 24/7.

Their facilities are covered by a civil liability insurance, which includes all types of risks and damages that may occur, whether on the inside or in between our facilities and the airport. -limited to unfamiliar people to the normal operation of RoyalParking. -Video Surveillance. -Alarm System. -Property damage, fire and theft insurance. -Highly qualified staff, with a minimum of 5 years driving license.
Indicaciones de ruta
Una vez se confirme su reserva, recibirá un bono de confirmación con la dirección, el número de teléfono del parking y cualquier información relevante. Para ver la ubicación del aparcamiento, por favor vea el mapa en la página web.