Amsterpark Amsterdam Port Valet
All our car parks have anti-covid measures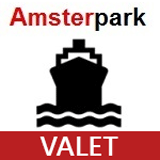 The only safe and officially approved Valet parking in the heart of Amsterdam right at the Passenger Cruise Terminal (PTA): Simple, safe and not expensive! No hauling your suitcases, no long walks from distant car parks, and no shuttle transfer. Your car will be 24/7 monitored with camera surveillance.
Amsterpark offers a convenient and fast Valet service at the port of Amsterdam. Drive straight to the Passenger Terminal Amsterdam (PTA), and call Amsterpark 15 minutes prior to your arrival at the PTA. An Amsterpark employee will meet you in front of the PTA and will take your car and you can go to check-in or walk into town directly. On your return, your car will be waiting for you right at the front of the PTA. Your car will be monitored by surveillance cameras around the clock.
Please note that the indoor parking can only accomodate cars with a max. height of 2,20m. Cars that are higher than 2,20m can be accomodated, but will be parked in an uncovered area.
Directions
You will receive a booking voucher containing the car park's address and telephone number, along with any relevant instructions and directions, upon confirming your reservation.
To view the location of the car park, please see the map on the website.
Features
Meet and Greet

Secure

Insured Drivers

CCTV

24 Hour

Anti-Covid Measures
Customer Reviews
Marie-Odile
Monday, September 10, 2018

HAUFFMAN
Monday, September 10, 2018

le numéro d'appel du parking pour prévenir de l'arrivée ou de la reprise du véhicule ne répond jamais. le service clientèle est incompétent et ne sait rien faire. a l'arrivée nous avons du par nos propres moyens et grâce à la gentillesse du comptoir COSTA , ils sont su contacter le service parking qui n'était pas au courant de notre arrivée. la réservation et le paiement et le débit sur la carte ayant été effectués 1 semaine à l'avance.... même situation à la reprise du véhicule. de plus le voiturier nous réclamait encore le paiement heureusement que nous avions la preuve du débit. très mécontente.....
Christine
Sunday, September 2, 2018

Could not have been easier in any respect.
Damijan
Friday, August 31, 2018

Zelo zadovoljni, ko smo se pripeljali so nam avto prevzeli, ko smo prišli iz križarjenja nas je avto že pričakal na istem mestu. Vglavnem zelo zadovoljni.
constant
Friday, August 31, 2018

Filip
Monday, August 27, 2018

Marc
Monday, August 27, 2018

steven
Monday, August 27, 2018

Morgane
Thursday, August 23, 2018

BERNARD
Thursday, August 23, 2018

Concernant la sortie du véhicule il était dans le même état qu'à son entrée, cependant après avoir signé l'état des lieu et démarré mon véhicule, j'ai eu la désagréable surprise de constater que le kilométrage au compteur était de 68518 km alors qu'à son entré l'indexe du compteur était de 68458 km, soit 60 km de plus, alors que le véhicule est sensé être stocké prés du terminal !!!! De plus la radio était réglée sur une station nommée "100% NL" alors que qu'à l'entrée du véhicule je n'avait pas de station de ce nom prés-réglée. Merci de m'apporter des explications concernant ces constats.
antonino
Thursday, August 23, 2018

bravo: cela frôle la perfection
ermanno
Thursday, August 23, 2018

CHRISTOPHE
Thursday, August 23, 2018

Floriane
Thursday, August 23, 2018

j'ai fait un mail hier à celui qui devait venir chercher notre voiture le 12 aout car je l'attends encore !!et oui après plus de 70 appels sans réponse de sa part et vous votre ligne occupée par trop d'appels , j'ai du laisser ma voiture au parking du port en ayant payé par avance votre soit disant service fantôme!j'attends un remboursement intégral payé à tort de 175 euros pour une prestation non faite et un geste de votre part pour le préjudice subi ,car imaginez bien mon état d'esprit de 11 h du matin à 19 h le soir ,seule avec ma voiture à Amsterdam désespérée de joindre ce numéro de téléphone ou personne ne réponds....Encore merci de cette superbe journée passé au téléphone sans aucune réponse !j'attends de vos nouvelles trés vite ,car vous vous doutez bien que je ne vais en rester là si je n'ai aucun remboursement de votre part!Merci de faire le nécessaire au plus vite.
Neiens
Monday, August 20, 2018

Only real probleme was to reach somebody by phone. Line busy and message only in Nederlands! A bit stressful to finally get someone on the phone. But from there on no problem. I will use again. No transfer but I have to answer the question i order to send my experience.
FREDDY
Sunday, August 19, 2018

William
Wednesday, August 15, 2018

Frederic
Tuesday, August 14, 2018

Tout était parfait sauf le numéro de téléphone. Contrairement à ce qu'il est indiqué sur votre site mail, nous n'avons jamais pu appeler le personnel à notre arrivée. Personne ne répond. Le personnel est tout simplement déjà présent sur place et il suffit de leur donner la clé de notre véhicule, idem pour le retour. Il faudrait l'indiquer sur votre site.
Karine
Tuesday, August 14, 2018

Tres contents de ce service de parking. Juste a cote de l'embarquement pour la croisiere. Par contre, non joignable par telephone , il faut s'adresser aux personnes en gilet rouge !
Jean claude
Thursday, August 9, 2018