Best Price (7 Days)
€ 101,00
Features
Meet and Greet
Free shuttle bus
Secure parking
24 hours / 7 days a week
About Amsterdam Port parking
The car parks at Amsterdam Port offer you a convenient and reliable Meet Greet service if you would like to hand over your car directly at the Passenger Terminal Amsterdam (PTA) and go straight to the check-in desk. Upon your return, your car will be returned to you outside the terminal, so you can begin your journey home. Or you can choose the transfer service and get to the port in no time in the company vehicle. Amsterdam Port Parking has never been so easy, safe and convenient!
River cruises
The Amsterdam-Rhine Canal connects the port of Amsterdam directly to the Rhine. Longer trips on the Rhine go to Switzerland or along the Main-Danube Canal to Nuremberg and Passau. There are also a number of cruises from Amsterdam on the Danube to Vienna and Budapest, with some shipping companies also offering cruises to the Black Sea and Bucharest.
Customer Reviews
Rated 4.81 based on 746 Reviews
05/08/2019

Alles was tip top in orde , voor herhaling vatbaar .
16/07/2019

Geen klachten: alles prima geregeld !
24/06/2019

Prima vervoer naar amsterdam port voor vertrek en terugkomst cruise!
10/06/2019

Heel vlotte bediening met zeer aangename en behulpzame chauffeurs . Ik heb reeds uw gegevens opgeslaan voor latere reizen, Een grote Dank u wel!
27/05/2019

de website was voor het boeken onduidelijk wat betreft de locatie garage
02/09/2018

Could not have been easier in any respect.
31/08/2018

Zelo zadovoljni, ko smo se pripeljali so nam avto prevzeli, ko smo prišli iz križarjenja nas je avto že pričakal na istem mestu. Vglavnem zelo zadovoljni.
23/08/2018

bravo: cela frôle la perfection
21/08/2018

I would like to say how fantastic your service was always doubtful where I leave my car all went well drop of at port perfect pick up at port perfect kept in touch with me by messenger on pick up drivers very helpful spoke English definitely use them again do not look any where else book with this company
21/08/2018

Alles super goed geregeld! Absoluut een aanrader en zal zeker er terug gebruik van maken voor Schiphol of cruise terminal!
14/08/2018

Tout était parfait sauf le numéro de téléphone. Contrairement à ce qu'il est indiqué sur votre site mail, nous n'avons jamais pu appeler le personnel à notre arrivée. Personne ne répond. Le personnel est tout simplement déjà présent sur place et il suffit de leur donner la clé de notre véhicule, idem pour le retour. Il faudrait l'indiquer sur votre site.
14/08/2018

Tres contents de ce service de parking. Juste a cote de l'embarquement pour la croisiere. Par contre, non joignable par telephone , il faut s'adresser aux personnes en gilet rouge !
23/07/2018

I do not speak Dutch. Some of the info provided I could not read. When I called the phone number provided on our return (I learned later that it wasn't necessary) I could not understand the announcement and had to hang up.
22/07/2018

Problème organisation au retour, beaucoup de monde à arrivé du bateau et navette trop petite pour le monde de personnes qui attendais et navette trop petite délai 1h30 attende.
22/07/2018

Super tevreden. Alles precies volgens afspraak. Voor herhaling vatbaar.
Amsterdam Port information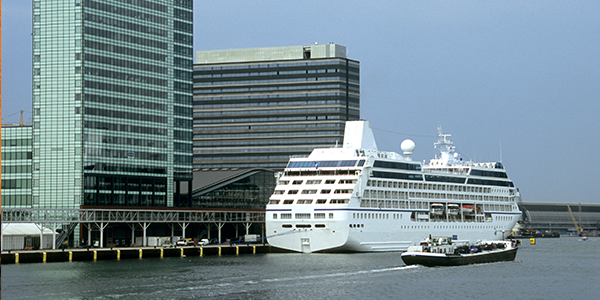 The cruise port of Amsterdam, on the bank of a bay called IJ, welcomes over 200,000 passengers every year. River cruises are just as popular as ocean cruises. At 600 m long, the 10.5 m deep quay offers sufficient space for three cruise ships. Additionally, there are berths for tourist boats and Rhine cruise ships.
Amsterdam has two cruise terminals: the Passenger Terminal Amsterdam (PTA), which is located in the city centre; and the Felison Terminal, which is located in the Port of Ijmuiden.
We're finding you the best deals
We'll be just a moment
.
.
.