Weeze Airport P3
All our car parks have anti-covid measures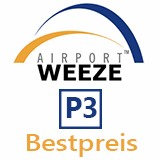 Now you can park right at Weeze Airport without having to pay a fortune, thanks to Weeze Airport P3.
No transfer necessary! The well-lit, tarmacked car park has a secure entrance gate and is situated just 600m from the airport – a short 5 minute walk away!
Please Note: We advise dropping your luggage and additional passengers off at the terminal building before parking.
HOW IT WORKS: Upon entering the airport you have to pay €3, which is not included in the price. Please press the field "3€ für 1 Stunde" on the display. You will not receive a ticket! After that please drive to the car park P3 and take a parking ticket from the barrier (press P).
After you have landed please make your way to the parking office (inside the terminal above the car rental office on the first floor) and have both your booking confirmation and your parking ticket ready. There your parking ticket will be validated.
Do not pay your parking ticket at the parking machine, please go to the parking office!! IMPORTANT: On entry to the airport you will be required to pay a charge of €3, which is not included in your parking fee that you have already paid.
Tip: Drop off any additional passengers and luggage directly at the terminal before parking.
Directions
You will receive a booking voucher containing the car park's address and telephone number, along with any relevant instructions and directions, upon confirming your reservation.
To view the location of the car park, please see the map on the website.
Important
Please do NOT pay your ticket at the regular machine but get an exit ticket at the park service information desk by showing your booking voucher.
Size restrictions for cars: maximum length 5m, maximum width 2m, there is no height restriction
Features
Secure

Barrier Entry

Well Lit

Tarmaced

24 Hour

Anti-Covid Measures
Customer Reviews
Hans-Peter
Wednesday, September 11, 2019

Nic
Thursday, July 25, 2019

Luc
Tuesday, July 16, 2019

FJA
Saturday, July 13, 2019

Stefan
Wednesday, July 10, 2019

Das Ausfahrticket wird nicht mehr benötigt. Kein Shuttle oder Dienstleistung gebucht
Nicolaas Arnout
Saturday, June 29, 2019

De papieren die ik ontving waren qua tekst niet update. Ik hoefde niet een uitrij kaartje ophalen bij terugkeer op Weeze, zo bleek, terwijl de slagboom meteen bij aankomst openging, zonder € 3,00 te voldoen, zoals werd aangegeven. € 3,00 wel betaald en daardoor wel uitrij kaartje
Petrus
Friday, June 21, 2019

Robert
Tuesday, May 14, 2019

Michael
Sunday, May 12, 2019

Hugo
Monday, May 6, 2019

Alles goed geregeld,behalve informatie over uitrij kaart was onduidelijk!
Angelique
Monday, May 6, 2019

op uw papieren stond dat bij uitrijden eerst een uitrijkaart boven op kantoor gehaald moest worden dit was niet nodig om dat op kenteken zo kon uitrijden
Jacobus AMM
Sunday, May 5, 2019

Ik heb nog steeds geen retourbetaling gekregen voor de dubbele betaling! Bij het ophalen hoefde ik bleek achteraf NIET eerst langs de balie op de eerste verdieping...
Chantal
Saturday, May 4, 2019

We konden de parkeerservice niet vinden. Bleek op de airport te zijn ipv op de parkeerplaats
Andrea
Tuesday, April 23, 2019

Vandepoel
Monday, April 22, 2019

Bij het binnenkomen was de slagboom naar boven, waardoor we geen ticket konden betalen voor de aangegeven 3euro, dit was wat onduidelijk. Verder was alles ok!
Ali
Monday, April 22, 2019

Carina
Saturday, April 20, 2019

M.J.
Friday, April 19, 2019

mohamed
Monday, April 15, 2019