Park B2 - Treviso Official Airport Parking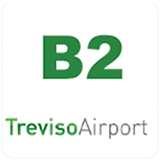 Official Airport Car Park just 20mt away from the terminal!
120 Uncovered Car Spaces
Close to Terminal
WARNING: Users with a reservation for B2 car park must go to the 1st floor of the B parking area. Should they remain on the ground floor (B1), users will pay the fare of car park B1.
Directions
You will receive a booking voucher containing the car park's address and telephone number, along with any relevant instructions and directions, upon confirming your reservation.
To view the location of the car park, please see the map on the website.
Features
24 Hour

Open Air
Customer Reviews
Gianni
Wednesday, March 4, 2020

Le indicazioni per raggiungere il parcheggio, nonché le modalità di accesso/uscita riportate nel voucher erano errate. Nonostante ciò il tutto è risultato essere molto pratico.
bostjan
Thursday, February 6, 2020

Sašo
Monday, January 27, 2020

Zelo uporabna bi bila navodila za vstop in izstop iz parkirišča. Ni bilo jasno, ali moramo vzeti parkirni listek ov vstopu in tudi ne kako izstopiti, kje dobiti potrditev parkirnega listka. Terjaloje kar nekaj poizkusov, da smo ugotovili, da gre za prepoznavo tablic in da je treba kljub temu uporabiti parkirni listek in še pritisniti na nek gumb. Točna navodila bi bila zato zelo dobrodošla.
Sonja
Sunday, January 12, 2020

CARLO
Saturday, December 7, 2019

Adriano
Wednesday, December 4, 2019

Nicolai
Tuesday, December 3, 2019

Ivan
Sunday, December 1, 2019

Mark
Sunday, December 1, 2019

Giovanni
Thursday, November 28, 2019

ci dovrebbe essere una persona al controllo. come dovrebbe essere più chiara l'indicazione dei settori parcheggio
Elmir
Tuesday, November 19, 2019

Uros
Tuesday, November 19, 2019

Luigi
Sunday, November 10, 2019

Riko
Friday, November 8, 2019

Fabio
Thursday, November 7, 2019

Milan
Tuesday, November 5, 2019

serman
Monday, October 28, 2019

Procedures d'entrée et de sortie mal expliqué sur le web
Matjaž
Tuesday, October 22, 2019

Giuseppe
Saturday, October 19, 2019

Ho parcheggiato al B2, avendo prenotato e pagato on-line. Nessun problema all'ingresso; all'uscita, mentre la barriera del piano superiore si è alzata automaticamente alla lettura della targa, per uscire dal piano terra ho dovuto invece citofonare ad un operatore.
Enzo
Thursday, October 17, 2019