Aeroporti di Roma - Long Stay - Undercover 1-2 - Shuttle Bus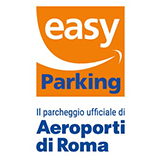 Official airport's car park! Choose the security to book for the official car park: more than 1600 undercover spaces available! The car park is divided in 6 areas and the customer service is available 24/7/365!
The car park is just some minutes away from the terminal and offers a free shuttle bus! NOTE: The shuttle bus leaves every 8 minutes. The shuttle bus (Parking Express) is available every 5 minutes free of charge from 05:00 to 00:59. From 01:00am to 05:00am the shuttle bus service will run every 15 min.
Every easy Parking booking includes an exclusive 10% discount in participating airport bars and restaurants. HOW TO USE THE FOOD PROMOTION: Before paying for your purchase, please show your parking ticket to the bar/restaurant cashier. The promotion is valid until 31/12/2019 and ONLY on you arrival date as written on the booking voucher.
Directions
You will receive a booking voucher containing the car park's address and telephone number, along with any relevant instructions and directions, upon confirming your reservation.
To view the location of the car park, please see the map on the website.
Features
24 Hour

Shuttle bus

Undercover
Customer Reviews
GABRIELE
Sunday, February 16, 2020

Ho avuto problemi sia all'entrata che all'uscita perché non veniva correttamente letto nè il codice a barre della prenotazione nè il successivo biglietto emesso. Problema riscontrato sia in entrata che in uscita e risolto solo grazie all'ottima assistenza ricevuta
Massimo
Monday, December 9, 2019

ADRIANO
Saturday, December 7, 2019

Nonostante avessi il numero di prenotazione ho avuto difficoltà al ritiro perché dell automobile perché mi chiedevano il numero di prenotazione che avevo sulla mail che invece non mi avevano mai mandato. Comunque la cosa si è risolta in modo positivo nonostante a loro non risultasse nessuna prenotazione da parte mia.
Cesare
Tuesday, November 26, 2019

Ho avuto difficoltà all'ingresso in quanto non era chiaro nella documentazione se leggendo la targa avrebbe comunque rilasciato il biglietto. All'uscita dal park2 NON ha letto la targa e ho dovuto inserire il biglietto ma mi diceva che non era utilizzabile, ho dovuto chiamare l'assistenza e all'uscita del parcheggio mi ha di nuovo chiesto i, pagamento e ho di nuovo dovuto chiamare l'assistenza. NON HO CAPITO PERCHE' HO PRENOTATO CON L'IMPORTO DI € 28,50 E HO DOVUTO PAGARE €31,50.
Edoardo
Wednesday, November 6, 2019

PAOLO
Wednesday, October 30, 2019

Lucrezia
Tuesday, October 29, 2019

Non c'era staff nel parcheggio quindi ho messo 1 perchè non applicabile.
Lorenzo
Monday, October 28, 2019

la viabilità dentro ai parcheggi non risulta chiarissima, ma complimenti per tutto il resto.
Rosanna
Wednesday, October 23, 2019

mario
Tuesday, October 1, 2019

sarebbe opportuno notificare ai nuovi utenti la necessità di memorizzare il punto di utilizzo della navetta ed il numero del settore dove si è parcheggiato
Nikol
Monday, September 30, 2019

All was great, will definitely use it again
Alfredo
Thursday, September 26, 2019

LAURA
Monday, September 23, 2019

Fabio
Monday, September 16, 2019

Ottima esperienza. Utilizzerò di nuovo il parcheggio
Gattari
Monday, September 9, 2019

Fabio
Saturday, September 7, 2019

Maria
Wednesday, August 28, 2019

SALVATORE
Tuesday, July 30, 2019

ALBERTO
Sunday, July 21, 2019

Luciano
Saturday, July 20, 2019

Lo Staff non era visibile