easy Parking Parcheggio P4 (Aeroporto di Ciampino)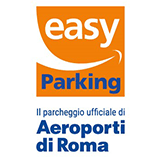 Official Ciampino airport !.
Choose the comfort of parking your car at the airport. The car park is in front of the arrivals/departures terminal. In addition every easy Parking booking includes an exclusive 10% discount in participating airport bars and restaurants.
W
Services available:
Online pre-booking
Disabled spaces available
Alitalia's mile collection programme
car park assistance available h24
Payments in cash, credit card or bancomat available
Where and how to pay:
Authomatic cashiers (cash, credit cards, bancomat)
Pay columns at the exit (credit cards, bancomat)
Customer care (cash, credit cards, bancomat)
Every easy Parking booking includes an exclusive 10% discount in participating airport bars and restaurants.
HOW TO USE THE FOOD PROMOTION:
Before paying for your purchase, please show your parking ticket to the bar/restaurant cashier.
The promotion is valid until 31/12/2019 and ONLY on you arrival date as written on the booking voucher.
Directions
You will receive a booking voucher containing the car park's address and telephone number, along with any relevant instructions and directions, upon confirming your reservation.
To view the location of the car park, please see the map on the website.
Features
Open Air

No Pre-Payment

Keep your Car Keys

Secure

24 Hour
Customer Reviews
Lena
Friday, October 18, 2019

P4 was closed at arrival and I had to find another parking lot. Would have liked to get notification of closure before arrival.
Colin
Tuesday, September 24, 2019

There was no parking space available so I had to park elsewhere. My wife is disabled so I am disgusted by your service.
Francesca
Saturday, August 24, 2019

Giuliana
Monday, August 5, 2019

L'uscita dal parcheggio è malissimo segnalata. Di notte abbiamo imboccato l'uscita verso il terminal. Sarebbe opportuno un bel cartello è non solo segnaletica orizzontale. Speriamo niente multe. Abbiamo pagato abbastanza.
SANDRO
Tuesday, July 30, 2019

Diana Mihaela
Friday, July 26, 2019

Monia
Friday, May 10, 2019

Non mi avete mai inviato conferma di prenotazione per cui ho dovuto risolvere in loco.
Charles
Thursday, March 28, 2019

I am annoyed as I was charged 104 euros and not 55 agreed as the machine would not accept my code. Also your survey needs to accept a zero rating for services not available or applicable
Antonello
Monday, February 25, 2019

La colonninna all'entrata del parcheggio non ha letto la targa della vettura per l'emissione dello scontrino in automatico, richiesto aiuto tramite citofono, l'addetto ha provveduto in un istante all'emissione del biglietto. Riscontro comunque molto positivo, lo consiglio contro altri parcheggi privati
Marco
Tuesday, February 19, 2019

Esperienza molto positiva
Andrea
Monday, January 14, 2019

ANNA
Sunday, December 23, 2018

Ottimo servizio con telepass
Maria del Mar
Tuesday, October 2, 2018

gustavo
Saturday, September 15, 2018

alessandra
Monday, August 20, 2018

c'è un problema di indicazione di segnaletica in fase di uscita, ho rischiato di prendere un multa per accesso in area riservata
Ernesto
Thursday, August 16, 2018

stefano
Sunday, August 12, 2018

In aereoporto non c'era nel parcheggio prenotato spazio per poter lasciare l'auto, fortunatamente lo staff con professionalità e cortesia ha rimediato velocemente all'inconveniente.... ritornerò sicuramente ad usufruire del servizio!
Roberto
Wednesday, July 18, 2018

Domenico
Wednesday, July 18, 2018

Enrico
Sunday, July 1, 2018