easy Parking P5 (Ciampino Airport)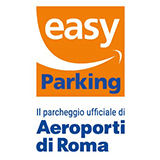 Official Ciampino airport !. Choose the comfort of parking your car at the airport. The car park is in front of the arrivals/departures terminal. In addition every easy Parking booking includes an exclusive 10% discount in participating airport bars and restaurants.
Services available:
Online pre-booking
Disabled spaces available
Alitalia's mile collection programme
car park assistance available h24
Payments in cash, credit card or bancomat available
Where and how to pay:
Authomatic cashiers (cash, credit cards, bancomat)
Pay columns at the exit (credit cards, bancomat)
Customer care (cash, credit cards, bancomat)
Every easy Parking booking includes an exclusive 10% discount in participating airport bars and restaurants. HOW TO USE THE FOOD PROMOTION: Before paying for your purchase, please show your parking ticket to the bar/restaurant cashier. The promotion is valid until 31/12/2019 and ONLY on you arrival date as written on the booking voucher.
Directions
You will receive a booking voucher containing the car park's address and telephone number, along with any relevant instructions and directions, upon confirming your reservation.
To view the location of the car park, please see the map on the website.
Features
Open Air

No Pre-Payment

Keep your Car Keys

Secure

24 Hour
Customer Reviews
Pietro
Wednesday, December 11, 2019

Quale servizio? Non ho ricevuto niente. Si sono scordati della mia richiesta
vincenzo
Tuesday, November 5, 2019

molto facile il sito e ingresso/uscita
Lena
Friday, October 25, 2019

mario
Friday, September 27, 2019

Pagamento in uscita solo con carta e con pochissime spiegazioni, molto laborioso. consigliare il pagamento contanti prima del ritiro autovettura.
Riccardo
Thursday, July 18, 2019

Giovanni
Tuesday, June 25, 2019

TIZIANA
Wednesday, February 27, 2019

ancora una volta ho trovato difficoltà a far leggere il code di prenotazione e la targa. Sono rimasta bloccata in uscita e in entrata.
Monica
Friday, February 8, 2019

Dicono che legge la targa all'ingresso.......forse più in là....cmq tutto liscio ....come l'olio
luciano
Monday, January 14, 2019

solo un piccolo intoppo,al momento dell'arrivo il lettore non leggeva la targa dell'auto, ma con la gentile cortesia del operatore al telefono con circa 10 secondi ha sbloccato l'ingresso.grazie a tutti.
Claudio
Friday, December 28, 2018

È stato facilissimo raggiungere il parcheggio,ed ho fatto in autonomia con molta tranquillità, sia nell'ingresso con la lettura del QR CODE, che all'uscita con il pagamento automatico
roberto
Friday, December 28, 2018

vincenzo
Friday, October 12, 2018

rodolfo
Wednesday, October 10, 2018

Tiziana
Sunday, September 2, 2018

non ho utilizzato Il servizio di trasferimento, ma devo dare una risposta obbligatoriamente...
Eric
Saturday, August 4, 2018

I booked using a credit card but was not sure HOW to pay on leaving. In the event I used the card in a CXiampino parking machine and all was OK ..THIS NEEDS CLARIFICATION as I had to ask a parking office attendant whether I had to pay or would the parking ticket work on exit.
David
Monday, July 9, 2018

Everything went very well, despite the fact we had to spend an extra day In Edinburgh. The system for payment in Ciampino was perfect
romeo
Friday, June 29, 2018

Piccolissimo problema all'ingresso risolto immediatamente dal personale di turno.
Pio
Thursday, May 24, 2018

Sebastian
Monday, February 5, 2018

Gianluca
Tuesday, January 16, 2018