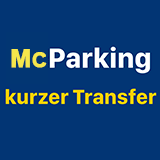 Overview of all services :
short distance from the airport and quick individual transfers
free children's seats for transfer
24/7 shuttle service
free toilets
disabled parking spaces
free flat battery jump start
special car park spaces (women, comfort and XXL parking)
secure parking - fenced ground, video surveillance, 24 hour staff on site
McParking offers nearly 500 car park spaces in Leipzig and stands out particularly for many years of experience and very short transfer times (approx. 6min). The car park is completely fenced, video monitored and patroled 24 hours by the staff. Shuttle transfer takes place individually and quickly. The car park lot offers also special parking places, free flat battery jump start and much more. at.
Please note that no checked baggage is transported and it must be handed over at the airport before arrival. The transfer for 4 persons is included in the price. From the 5th person, an additional payment of 5€ per person will be charged.
Please note that you can not cancel the booking.
Directions
You will receive a booking voucher containing the car park's address and telephone number, along with any relevant instructions and directions, upon confirming your reservation.
To view the location of the car park, please see the map on the website.
Features
Barrier Entry

Night Patrol

Free Transfers

Well Lit

Insured Car Park

Shuttle bus

Gated Entry

Disabled Transfer

Disabled Parking

Insured Transfers

Toilet

Baby Changing Facilities

Individual Transfers

Waiting Room

Child Seats

Perimeter Fence

Insured Drivers

Secure

Flat Battery Jump Start

Transfer Service

Keep your Car Keys

Van/Bus Parking

Open Air

Heated Vehicle

24 Hour
Customer Reviews
Gert
Friday, February 28, 2020

Wenn Leipzig, dann McParking!!
Manfred
Saturday, February 22, 2020

Mirko
Sunday, February 9, 2020

Pavel
Wednesday, December 25, 2019

Všechno super. Odvoz na letiště i zpět k autu proběhl v pořádku a včas. Děkuji a příště se vrátím zase sem.
Peter
Thursday, December 19, 2019

Lothar
Monday, December 16, 2019

Frank
Thursday, December 5, 2019

Bernd
Thursday, November 14, 2019

Ralf
Friday, November 8, 2019

Katharina
Monday, October 7, 2019

Uwe
Sunday, September 8, 2019

Lydia
Saturday, August 31, 2019

Wir waren 2 1/2 Stunden vor Abflug auf dem Parkplatz. Leider gab es nur 1 Person, die alles gefahren und geholt hat und gleichzeitig noch alles organisatorische gemacht hat. Wir mussten ewig warten, weil narürlich viele Leute vor uns waren. Wir waren dann erst 1 Stunde vor Abflug am Flughafen. Das war dann alles total stressig und kein schöner Start in den Urlaub. Die Abholung dagegen war dann gut. Da gab es 2 Mitarbeiter am Abend..
Hallo Lydia, wir entschuldigen uns für die ungewöhnlich lange Wartezeit. An diesem Tag ist kurzfristig ein Fahrer ausgefallen und wir konnten ein Zeitfenster von 4 Stunden nicht kurzfristig mit Ersatz besetzen. Danach konnten wir wieder mit gewohnter Geschwindigkeit unsere Gäste bedienen. Wir sind froh, dass es zu keinen Komplikationen beim Abflug kam. Viele Grüße McParking
Peter
Saturday, August 24, 2019

Meinolf
Wednesday, July 24, 2019

Olaf
Saturday, June 29, 2019

Super liebe nette und zuverlässige Mitarbeiter und Mitarbeiterinnen Parkplatz super sicher alles Perfekt und einfach zu empfehlen
Wir danken Ihnen für Ihre tolle Bewertung und freuen uns auf Ihren nächsten Besuch. Viele Grüße Ihr McParking Team
Andreas
Sunday, June 23, 2019

Martina
Saturday, June 15, 2019

Bärbel
Sunday, June 9, 2019

Cordula
Wednesday, June 5, 2019

Wir waren rundum zufrieden und würden diesen Parkplatz immer wieder buchen und auch weiter empfehlen.
Jens-Martin
Monday, June 3, 2019