Parkhalle Hamburg
All our car parks have anti-covid measures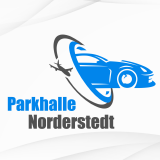 Parkhalle Hamburg offers you safe and cheap parking in its secure and enclosed compound. Outdoor and indoor parking spaces available. The compound is located just 7 minutes from Hamburg airport. Immediate transfer to and from the airport is included in the price. The friendly and professional team is there for you from 4 am until midnight every day.
How it works:
On the day of your departure Please call us about half an hour before you arrive and then drive directly to the car park where a member of staff will meet you. After completing the documentation and after you have parked your car you will be transferred to your departure terminal. The transfer takes just 7 minutes.
While you are away, your car will be parked safely in the secure and enclosed compound.
On your return, please call the car park staff on the telephone number given in the booking voucher. The shuttle service will then pick you up from the airport in no time and take you back to the car park. You just get in your car and start your journey home.
Directions
You will receive a booking voucher containing the car park's address and telephone number, along with any relevant instructions and directions, upon confirming your reservation.
To view the location of the car park, please see the map on the website.
Important
Please note:
The free transfers are for a maximum of 4 people per car. For each additional person, a surcharge of €10 applies.
Your car keys have to be left with the car park staff as cars will be parked in order of departure date.
Features
Free Transfers

Secure

Insured Car Park

Insured Transfers

Perimeter Fence

Undercover

Shuttle bus

Anti-Covid Measures
Customer Reviews
Vagn
Thursday, February 27, 2020

John
Sunday, October 20, 2019

Det er ikke noget jeg vil gør igen
Lars Erik
Monday, September 30, 2019

Katrin
Monday, September 16, 2019

Kein Shuttleservice vorhanden, trotz Buchung. Das aber erst am Parkhaus erfahren. Mussten dann selbstständig zum Flughafen fahren und dort 1h auf den Abholer unseres Auto warten.Mussten mehrfach umparken ,um ein Knöllchen zu entgehen. Zurück war unser Auto nach etwa 35 min am Flughafen.Nie wieder! Stress pur!Hat mit Shuttle nix zu tun.
Ditte Ravnborg
Wednesday, September 4, 2019

Der var en del forvirring iht. aflevering. I papirerne stod der at jeg skulle køre til parkeringspladsen, men da jeg ringede (og det første nr virkede ikke) sagde de godt nok noget omkring terminal 1, men det var svært at fange i tlf, samtidig med at de ikke talte ret godt engelsk. Da jeg ankom til parkeringspladsen viste det sig at jeg skulle være kørt direkte til lufthavnen og så ville de ha hentet min bil der. Den venlige medarbejder kørte foran mig ud til lufthavnen og viste mig hvor jeg skulle holde, og så ventede jeg på en medarbejder der. Aflevering af bilen efter igen gik noget nemmere :)
Rachid
Tuesday, September 3, 2019

Michael
Sunday, September 1, 2019

Aycal
Monday, August 26, 2019

Cecilie
Saturday, August 24, 2019

Laura
Saturday, August 24, 2019

Bilal
Saturday, August 24, 2019

Top Service immer wieder gerne!!! Am Tag unserer Rückreise wurde unser Auto sogar zum Terminal gebracht, sodass wir ohne Umwege die Heimreise antreten konnten. Danke
Sandra
Friday, August 23, 2019

15 Stunden vor Abflug wurden wir darüber informiert, dass wir statt zum Parkplatz direkt zum Flughafen fahren sollten, dort wurde uns das Fahrzeug abgenommen. Nach der Reise hatte das Auto 32 km mehr auf dem km Stand, obwohl zugesagt wurde, dass das Auto nur 1 km weiter in einem Parkhaus abgestellt wird, statt wie vereinbart auf dem Parkplatz in Norderstedt. Das war also kein Shuttleservice.
Anne
Friday, August 16, 2019

Annette
Sunday, August 11, 2019

Franziska
Friday, August 9, 2019

Dorthe
Friday, August 9, 2019

Jan jyde
Wednesday, August 7, 2019

Reimer
Wednesday, August 7, 2019

Gitte Andersen
Wednesday, August 7, 2019

mohammad zobair
Tuesday, August 6, 2019