Park and Trip Bordeaux 2 - Open Air
All our car parks have anti-covid measures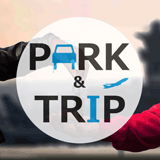 3 minutes from Bordeaux Airport. Shuttle available from 6 am until 10 pm / 7 days a week.
Park and Trip Bordeaux is located just 4 minutes from the terminals of Bordeaux Mérignac airport. It offers a secure option of parking outside the airport, where you can safely leave your car during your trip.
The car park is secured by CCTV, and alarm systems. Park and Trip offers you outdoor spaces on a site just minutes away from the airport and easily accessed from the A630 motorway.
HOW IT WORKS
After a short registration procedure, your car is parked and you will be taken to the airport in the free shuttle. At the airport, you will be dropped off outside your departure terminal, so you can go straight to the check in desk!
We advise that you allow about 30 minutes of time between your check in time and the time you arrive at the car park.
On the day of your return to Bordeaux airport, we ask that you confirm your arrival with a phone call to the car park when your are collecting your luggage. The shuttle will then be sent to meet you at the airport to drive you back to the car park where you can collect your car.
ADDITIONAL INFORMATION
If you are coming with more than 4 passengers, please drive first to the airport to drop off your companions before heading to the car park. The shuttle bus will not be able to transfer all passengers at the same time otherwise.
Please note that a surcharge of 9.99€ is automatically added to the price for arrival or return booked between midnight and 4 am.
We strongly advise customers to arrive minimum 2 hours prior to their departure time.
Please note that you must leave your keys with the car park staff during your trip. Your keys will be kept as safe as your car during your absence.
Please note that we do not accept large vehicles such as vans.
Park and Trip Bordeaux is open 7 days a week, 24 hours per day.
Directions
You will receive a booking voucher containing the car park's address and telephone number, along with any relevant instructions and directions, upon confirming your reservation.
To view the location of the car park, please see the map on the website.
Features
Anti-Covid Measures
Customer Reviews
jean-Marc
Saturday, November 16, 2019

Quelle déconvenue votre service à notre retour le vendredi 15 novembre 2019 à 18H...Alors, que nous vous avions prévenu à plusieurs reprises....il a fallu attendre 1H avant que votre navette vienne nous prendre !!!!! Nous étions 6 persopnnes au total... De notre coté : Mme LESBATS et M. COLLET-URBAN...pour une publicité qui vente, que votre parking est à 3 M' un vrai scandale.. Attendez-vous à avoir de bons commentaires sur le FORUM... Vraiment très énervés... Salutations
Fabrice
Tuesday, November 5, 2019

GUY
Thursday, October 31, 2019

non pas contents, pas de marche_ pieds à votre navette, obligés de sauter, qui a occasionné une douleur dans le bas du dos de mon Mari qui l'a fait souffrir tout le circuit en ANDALOUSIE, ( à revoir , comme système ! nous avons déjà utilisé les navettes pour aller à l' Aéroport, mais toutes aux faible aux fauteuils roulants
Nathalie
Friday, October 25, 2019

Tout s'est passé comme prévu. Le service est très professionnel.
didier
Sunday, October 20, 2019

gouy
Wednesday, October 16, 2019

robert
Saturday, October 12, 2019

Fatima
Friday, October 11, 2019

Tout était parfait. Un grand merci Je recommande ce service. Chauffeur dispo agréable et compétent Bravo.
marie claude
Sunday, October 6, 2019

José
Tuesday, October 1, 2019

Jean-Pierre
Friday, September 27, 2019

Jone
Wednesday, September 25, 2019

Francois
Wednesday, September 25, 2019

PATRICK
Tuesday, September 24, 2019

40 minutes d'attente pour la navette au retour ..... inadmissible . Le tel donné ne répondais pas !!!
HACHE
Sunday, September 22, 2019

jean pierre
Saturday, September 21, 2019

il me semble que c est laura notre chauffeur gentille agreable toujours le mot sympa une pro merci a elle
Jean Luc
Thursday, September 12, 2019

Super service . Ponctualité. Localisation très pratique . Relations avec chauffeurs très agréables . On reviendra .
Frédéric
Thursday, September 12, 2019

Genevieve
Tuesday, September 10, 2019

Formidable pas de soucis à se faire car on voit que le véhicule est en sécurité
COAT
Thursday, August 29, 2019