1A Service & Quality – Dein Stellplatz Tegel Open Air P4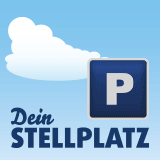 Save with this Summer Special from Dein Stellplatz! Park in the open air car park in the fenced-in premises at Dein Stellplatz.
The car park offers open-air parking spaces on the fenced-in premises.
The shuttle transfer is included in the price and is available between 03:30am and 01:00am. Delays when landing are of course taken into account by the car park.
Other services:
For an additional fee of 15€, you may leave your car keys in the company safe.
XXL size parking spaces for oversized vehicles available.
Parking spaces closer to the exits for women traveling on their own are available.
Disabled parking spaces available.

Please note:
The transfer includes up to four passengers. For 5 or more passengers there will be an extra charge which will be added automatically on the booking form when selecting the number of passengers.
The booking cannot be canceled in this super-saver promotional product!
Directions
You will receive a booking voucher containing the car park's address and telephone number, along with any relevant instructions and directions, upon confirming your reservation.
To view the location of the car park, please see the map on the website.
Features
CCTV

Flat Battery Jump Start

Heated Vehicle

Free Transfers

Keep your Car Keys

Night Patrol

Perimeter Fence

Valeting Available

Well Lit

Tarmaced

Shuttle bus
Customer Reviews
Šimon
Thursday, March 19, 2020

Robert
Tuesday, March 17, 2020

David
Friday, March 13, 2020

The parking was chosen due to English speeking staff. There were very arogant person no EN speaking. Very bad experience due to this person, never more this parking.
Dear David, Of course we also have English speaking staff! But due to several shifts, we cannot guarantee that there will always be someone English speaking on site. We also cannot require our older colleagues to learn English! All the best for you! Your Dein-Stellplatz-Team
Jakub
Sunday, March 8, 2020

Petr
Sunday, March 8, 2020

Gabi
Wednesday, March 4, 2020

Galina
Tuesday, March 3, 2020

Kathrin
Sunday, March 1, 2020

Daniel
Saturday, February 29, 2020

Řidič s námi jel jako prase.
Thanks for your feedback Daniel, of course, our drivers are not supposed to drive so fast and stick to the traffic regulations. We'll have a conversation with the driver in charge to make sure this doesn't happen again. We wish you all the best and hope to see you again. Many greetings from Dein-Stellplatz-Team
Frank
Friday, February 28, 2020

Radim
Thursday, February 27, 2020

Jan
Tuesday, February 25, 2020

Marek
Thursday, February 20, 2020

Jacek
Thursday, February 20, 2020

Kamil
Wednesday, February 19, 2020

Tomasz
Monday, February 17, 2020

Wszystko sprawnie załatwione.
JERZY
Sunday, February 16, 2020

Bardzo dobra usługa. Profesjonalna obsługa.
Dziekuje Jerzy i do zobaczenja :-) Pozdrowienia od Dein Stellplatz
Uwe
Sunday, February 16, 2020

Michał
Thursday, February 13, 2020

Peter
Wednesday, February 12, 2020