Venice cruise parking Open Air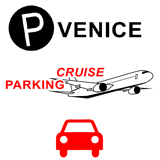 Open air car park, open 24/7 with exclusive shuttle bus service to/from the airport included in the price!
Venice cruise parking is a secure and patrolled car park.
PLEASE NOTE: The car park requests that you leave your keys for security purposes.
Anfahrtsbeschreibung
Sobald Sie Ihre Buchung abgeschlossen haben, erhalten Sie eine Buchungsbestätigung mit der Adresse und Telefonnummer des Parkplatzes, sowie weitere relevante Informationen. Den Standort des Parkplatzes entnehmen Sie bitte der Karte auf der Webseite.
Features
24 Stunden geöffnet
Kameraüberwacht
Shuttlebus
Freifläche
Behindertenparkplätze
Versicherter Parkplatz
Eingezäunt
Eingangstor
Transfer
5 Min
Kundenbewertungen
David
Montag, 15. April 2019

Alan
Sonntag, 7. April 2019

KRISTINA
Donnerstag, 21. März 2019

Janez
Montag, 11. März 2019

Mark
Freitag, 4. Januar 2019

Christopher
Freitag, 4. Januar 2019

Had a great experience and will be using again without a doubt. Great service anf very accomodating. Felt like I was taken care of.
matteo
Donnerstag, 3. Januar 2019

Rosita
Mittwoch, 2. Januar 2019

The low rating for staff only applies to one of the gentlemen, but unfortunately I do not know either of their names. The gentleman who met us when dropped off the car was great; very kind and hospitable. The gentleman who picked us up however was indeed the opposite. My wife and I called the service after we got our bags and we went directly to the meeting point after being told the van was there. We arrived and he was not so we called again and got the drivers number. The van arrived and the driver told us we were late and he had been waiting for us for 20 min and we did not follow directions and go to the waiting point. False. Then we we arrived at the lot the guy handed my wife the car keys and dropped them in the process and just walked away without a word. Entirely rude and uncalled for.
MATTEO
Montag, 31. Dezember 2018

inserite piu di un numero di telefono in caso di guasto al telefono
MARK
Samstag, 29. Dezember 2018

Alessandro
Donnerstag, 27. Dezember 2018

Cristina
Mittwoch, 7. November 2018

Fulvio
Dienstag, 6. November 2018

Diawar
Montag, 5. November 2018

GIAMPIERO
Sonntag, 4. November 2018

lucio
Dienstag, 9. Oktober 2018

Liliana
Mittwoch, 19. September 2018

Personale molto gentile e veloci nelle procedure. Posizione comoda all'aeroporto.
Giovanni
Dienstag, 18. September 2018

ANTONINO
Montag, 17. September 2018

Julia
Montag, 10. September 2018