Doncaster Airport Meet and Greet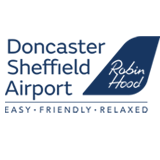 Car drop off is less than 60 seconds from the Robin Hood airport terminal building. You couldn´t get any closer to the Terminal!
Ultimate convenience with absolutely no stress.... Simply drive to the front of the terminal, check in your car and car park staff will do the rest. Please note: This is a Meet & Greet service. It does not permit you to use the Long or Short Stay car park instead. Where the incorrect service is used, the airport reserve the right to charge any M&G pre-booked reservation that ends up parking in the incorrect Car Park, an additional fee of £25.00 (inclusive of VAT). This will have to be paid before they will allow the vehicle to exit.
Anfahrtsbeschreibung
Sobald Sie Ihre Buchung abgeschlossen haben, erhalten Sie eine Buchungsbestätigung mit der Adresse und Telefonnummer des Parkplatzes, sowie weitere relevante Informationen. Den Standort des Parkplatzes entnehmen Sie bitte der Karte auf der Webseite.
Features
Valetparken
Kameraüberwacht
Gut beleuchtet
Park Mark Auszeichnung
Kundenbewertungen
Florin Dorian
Samstag, 25. Mai 2019

Jacek
Mittwoch, 22. Mai 2019

Grzegorz
Montag, 13. Mai 2019

Lukas
Donnerstag, 9. Mai 2019

Never again this car park, somebody who moved my car forgot switch off the radio, lady from office said it's not possible but why I got broke steering button and battery was flat hmm who's know...
Marek
Sonntag, 28. April 2019

IONUT MANUEL
Samstag, 27. April 2019

Maria
Freitag, 26. April 2019

Gabriel
Donnerstag, 25. April 2019

Sean
Mittwoch, 17. April 2019

Andrea
Samstag, 13. April 2019

Great service, I will use it again
Karen
Samstag, 13. April 2019

Tomasz
Dienstag, 12. März 2019

When I arrived and picked up the keys the battery was empty and I couldn't start the engine. After connecting cables I've seen that parking staff left the roof lamp turned on, which killed the battery. They didn't say sorry, and said it was probably a poor battery condition, while it was replaced to new 2 months earlier.
KRZYSZTOF
Donnerstag, 7. März 2019

Adam
Samstag, 2. März 2019

Zle oznakowana droga do parkingu
Zigmas
Dienstag, 26. Februar 2019

Robert
Samstag, 23. Februar 2019

Andrej
Dienstag, 19. Februar 2019

krystian
Montag, 18. Februar 2019

Dariusz
Donnerstag, 14. Februar 2019

DARIUSZ
Dienstag, 12. Februar 2019

Wir finden für Sie die besten Angebote
Bitte warten Sie einen Moment
.
.
.