Belfast International Long Stay Advance Saver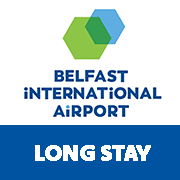 Advance Saver is ideal for those organisers who want to park for more than 4 days and book their space from 3 to 6 days in advance, with correspondingly lower prices.
The Long Stay Car Park at Belfast International Airport is situated just a short walk away from the terminal. With a short transfer time and with a shuttle bus available on request to transport you to the terminal, the Long Stay Car Park is an ideal solution for holidaymakers going away for a period of more than 4 days.
Anfahrtsbeschreibung
Sobald Sie Ihre Buchung abgeschlossen haben, erhalten Sie eine Buchungsbestätigung mit der Adresse und Telefonnummer des Parkplatzes, sowie weitere relevante Informationen. Den Standort des Parkplatzes entnehmen Sie bitte der Karte auf der Webseite.
Features
24 Stunden geöffnet
Zugangsschranke
Kameraüberwacht
Autoschlüssel behalten
Freifläche
Eingangstor
Sicher
Shuttlebus
Kostenlose Transfers
Transfer
6 Min Fußweg
Kundenbewertungen
DECLAN
Montag, 15. April 2019

liam
Sonntag, 31. März 2019

Martin
Samstag, 30. März 2019

Maria
Montag, 18. Februar 2019

There didn't appear to be transfer service available at my time of use and no staff available to contact
Vilius
Montag, 21. Januar 2019

David
Samstag, 19. Januar 2019

Where is the transfer bus you advertise ….YOU NEED TO LEARN FROM ALL SERVICES OFFERED AT DUBLIN AIRPORT .Aldergrove should be stripped of INTERNATIONAL status for what is offered .
Helen
Mittwoch, 9. Januar 2019

Artur
Montag, 7. Januar 2019

Aogán
Dienstag, 4. Dezember 2018

vehicle recognition failed to work on entry or exit, long queues and delays on exit
Laima
Donnerstag, 29. November 2018

Kay
Samstag, 24. November 2018

VAIDOTAS
Donnerstag, 22. November 2018

Victor
Samstag, 25. August 2018

Stan
Montag, 2. Juli 2018

this was the only site which gave me access to car parking on the dates I required. ***** service
NOREEN
Sonntag, 1. Juli 2018

On both entrance and exit the number recognition did not work and I had to use the help button. As did the car before and after me.
Cathleen
Samstag, 30. Juni 2018

David
Montag, 25. Juni 2018

Brian
Sonntag, 27. Mai 2018

Eugene
Freitag, 11. Mai 2018

Rimas
Montag, 16. April 2018